March 23rd 2018
Bring colour and texture into your rented home
As a Designer, I am passionate about bringing colour and texture into the home and making a space your own. In a rented home, this is one area where you can go to town, with textiles - such as throws and cushions - to make your space sing with your personality and style!
I champion the work of the RSA's (Royal Society for the encouragement of Arts, Manufactures and Commerce) Great Recovery Project where designers are addressing circular models and mindsets to help society as a whole rethink our bulky waste systems and respect our materials away from landfill and into the circular economy.! I was part of a residency back in 2015 where we researched new ways of addressing bulky waste - looking at circular models for 2nd, 3rd and 4th lives for products and rejecting the linear models of the past. If you are interested in this you can read the report here - it's full of good research and advice.! London filmmaker Paul Wyatt created a 30-minute film all about the residency, which you can watch on YouTube: The Survivor Sofa Story.!
So, if you are thinking of getting a new sofa or chair, why not consider re-upholstering an old piece of furniture or find one on eBay! We have a host of fabrics and regularly work with our friends at Urban Upholstery to re-imagine heirloom pieces of furniture, like this one below.
I work with them as much as possible with my clients, this chair was an eBay find, and I love the combination of our Wood Grain Blue printed cotton fabric with the corduroy arms.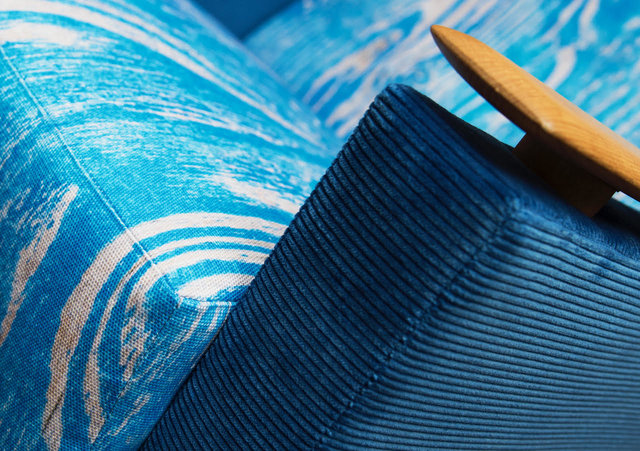 We pride ourselves in having an eclectic mix of cushions for our customers, from Bicycle wheels to Camouflage or Surreal Succulents to plain colourful ones...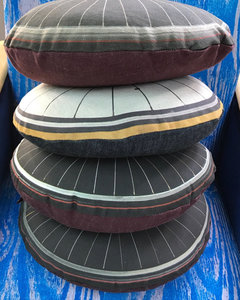 Our Bicycle themed cushions have been inspired by the local cycling community here in Hackney, the repeat bikes design was created after over a year of me taking photographs of local bicycles in our neighbourhood! You can view the full collection here Bikes of Hackney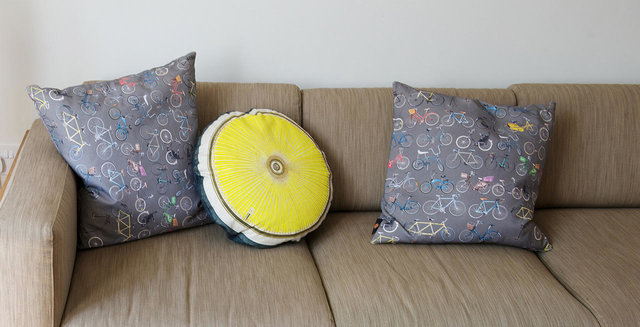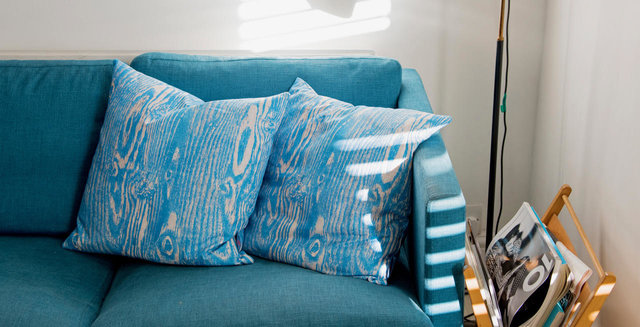 Camouflage cushions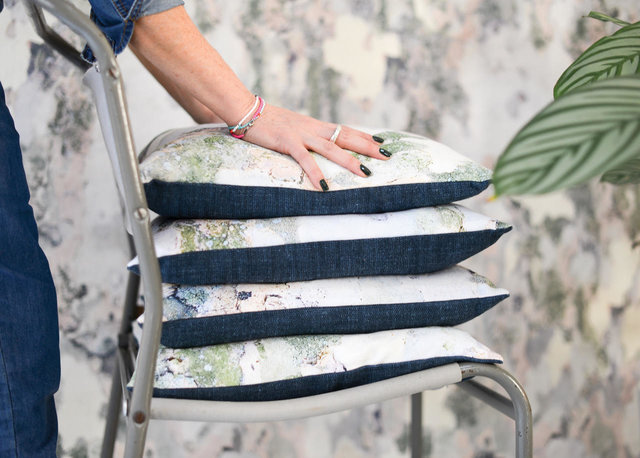 Mix pattern with bold coloured cushions for an eclectic mix - I love the colours of this collection of cushions below from Northern!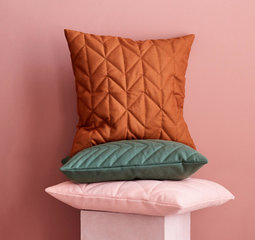 Another way to make a rented home have personality and feel like your own, is to paint a feature wall a colour that you love, one that works with your interior furnishings.
An array of 'browns' are catching my eye this Season, I love this brown wall and collection of brown jugs and vessels below.
photographed and Styled by Signe Bay from Copenhagen… swoon!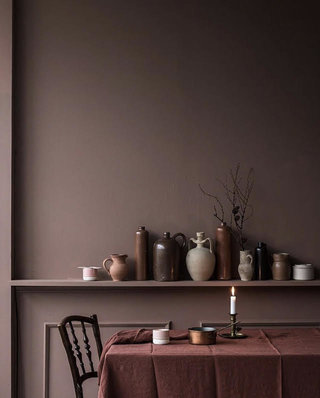 Rugs are a wonderful way to bring warmth and texture into a room, either on a wooden floor or over a carpet, I love this layering of rugs from a recent visit to Designers Guild on the Kings Road, during Design Week this March.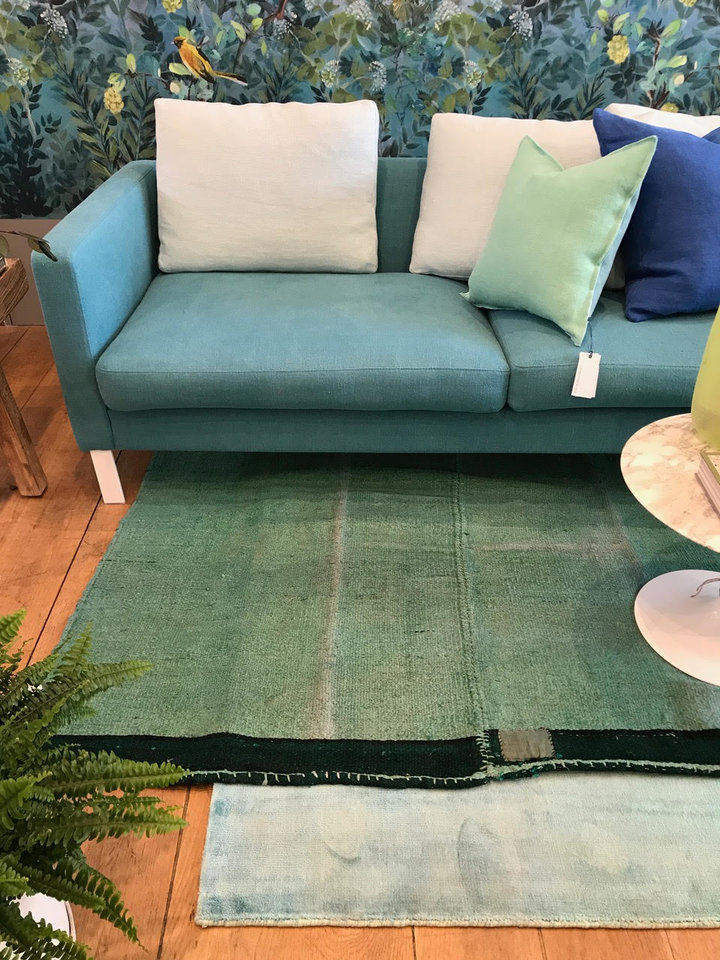 My studio works with Interior Designers and Architects to specify our roller blinds and wall coverings and we welcome private commissions. Pictured above is my award-winning Geo design a versatile pattern that works at many different scales, I particularly like the way our standard blinds diffuse the light in the daytime, whilst keeping your privacy at night as no one can see through this fabric.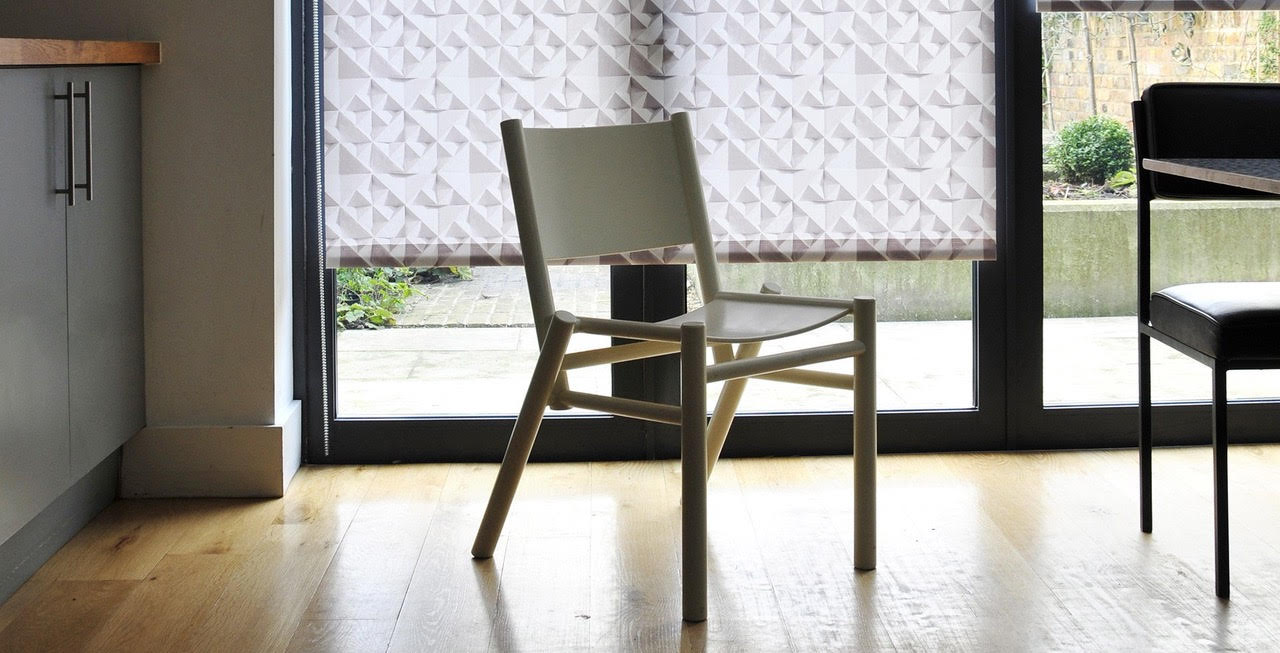 If you are looking for a stunning new light to bring personality into your space, then look no further than (Foldability) Kyla McCallum's new collection of lighting for Northern - a Norwegian company, who have just launched this new collection at Coexistence on Upper Street Islington. I am busy planning where to place such an exquisite light in my space!
Finally, plants are a wonderful way to bring a rented home to life! We are lucky to have North One Garden centre right on our doorstep, and if you like plants that don't need too much attention then you must visit Prick London on Kingsland Road. I'll end with my new design inspired by some of my own Succulent collection, here Surreal Succulents.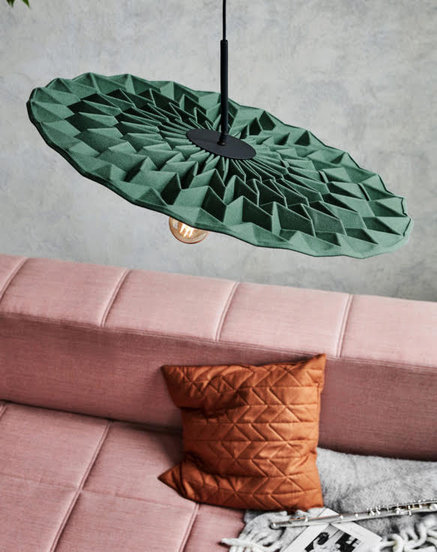 Thanks for reading, you find out more here - do get in touch via our website if you're looking for homewares or stunning household items - www.elladoran.co.uk