April 4th 2018
The Haphazard Gardener - Inspiring Containers of Instant Spring
A dear friend invited me to celebrate her birthday by attending a container planting workshop at Petersham Nursery in Richmond. She was apologetic about it being a busman's holiday, but I don't need an excuse to visit any nursery, and Petersham is particularly dreamy. They have their own gorgeously romantic aesthetic; part Le Grand Meaulnes, part 'Through the Looking Glass', with a great cafe, a restaurant I have yet to try, and a beautifully curated shop to make any gardeners heart sing - and their bank manager weep. Then there are the plants. Head of Horticulture and buyer of everything green, Thomas Broom-Hughes, is passionate about plant provenance and a strong campaigner for British grown flowers and plants. The nursery is chock full of thriving, carefully chosen plants that look as if they would make an instant impact in any garden. It's all wildly seductive.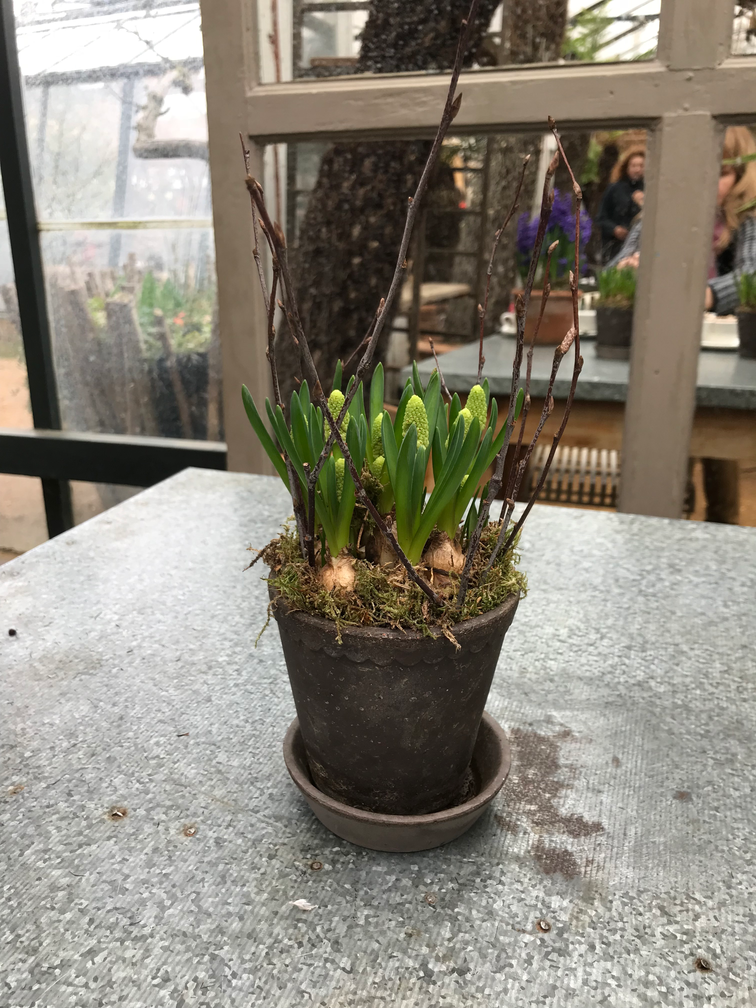 What with the mad weather we've been having, it has been a bit tricky to get out in the garden. Planting a couple of containers near your back door is a sure fire way to banish any Beast from the East blues and remind yourself that Spring really will come. We are still waiting for most of the cherry trees to burst into frothy fabulousness, so some big pots of inspiration will lift the spirits. Maybe also a few small ones that can come inside for dinner - simple to do and inexpensive if you put a cluster of muscari or a few primroses into a little terracotta pot. Narcissus tete-a-tete are bundles of sheer cheer. Hellebores are always a welcome sight this time of year. All of these can then be planted out in your borders when they are done flowering.
While one might think that putting a few small plants together in some big pots might be fairly simple for a relatively competent gardening enthusiast, there is always something to learn from another gardener, and I certainly wasn't disappointed by Thomas and his extravagant style. Two hours flew by as he astonished us by turning quite a lot of what I thought I knew about container planting on its head.
Whatever size of pot you are going to use, make sure it has a drainage hole. The fashion of putting a layer of drainage has been disproved - just a piece of crock (broken terracotta), inverted over the hole. You don't want it to hold the water and rot the plant's roots, so make sure any excess water will run away, but the potting compost stays put.
Add your compost; Petersham uses one called Carbon Gold for all containers and potting on. Rather than faffing about with John Innes number this or that, they use one compost for everything. It's enriched with mycorrhizal fungi, BioChar, worm casts and seaweed. I haven't tried it yet, as I am using up some homemade compost, but as soon as I need extra I am going to give it a try. You can read more about it at www.carbongold.com.
At this point was my first surprise. Thomas fills his containers about three quarters full of planting medium, then piles his chosen plants in a mound that comes above the edge of the planter. It looks precarious, but also so exuberant that once you have seen such an arrangement, traditional container planting looks mean, flat and paltry by comparison.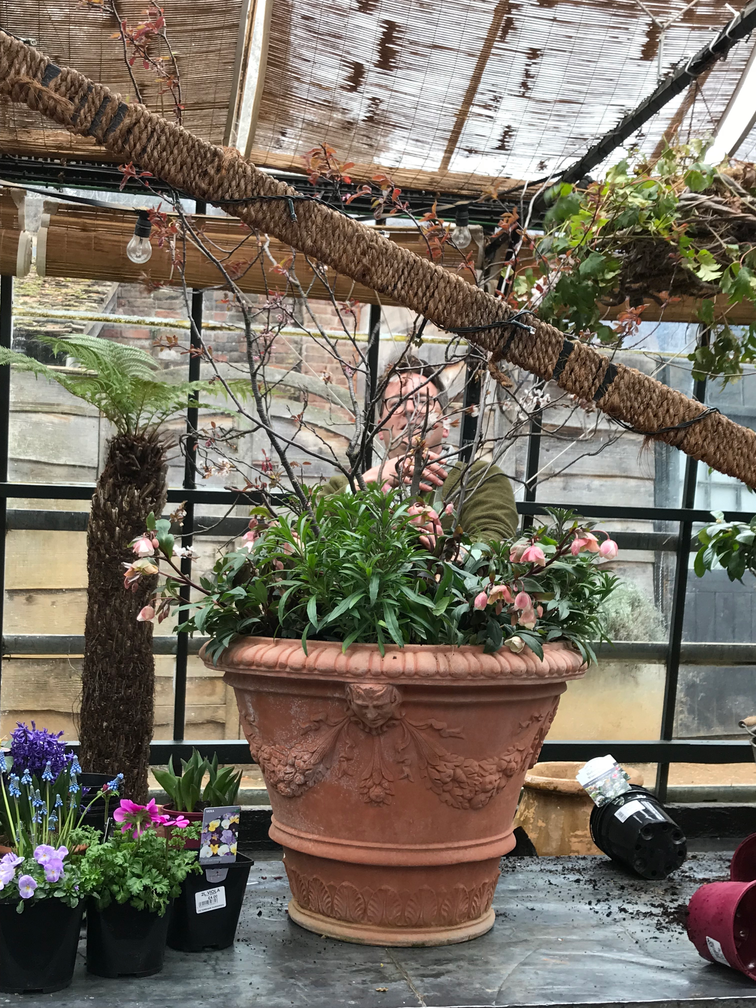 Here's my trough piled with 3 x Helleborus 'Pirouette', 5 x Erysimim 'Sunset Apricot', 3 x Euphorbia 'Tiny Tim', 3 x Asplenium 'Osaka', 5 x muehlenbekia complexa, and 15 x Tulipa 'Little Beauty'. I just need to fill in the gaps with more compost.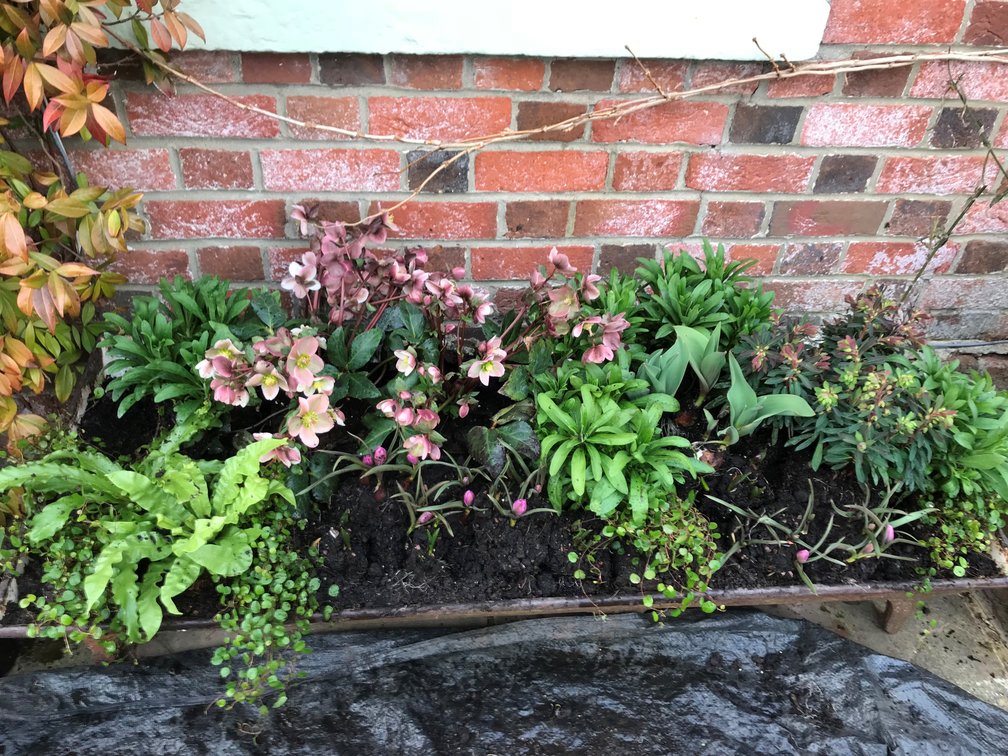 My second surprise was numbers. He nestles and jostles in many more plants than I ever would have thought can live together in one container. In the first combination, thinking about succession, he used five Hellebore 'Winterbells' in full bloom now, angling them facing out, then four erisymum (wallflower) 'Sweet Sorbet' (which flowers April - August), and then filled in the gaps with clusters of just sprouting tulip bulbs in twos and threes, ten to fifteen in total. Keeping the palette to one or two colours while being so effusive with plants makes the result both elegant and generous. This method leaves you with very few gaps between plants to be filled with more compost, then topped with a mulch of flat moss. Finally, the touch that made us all coo with delight was the addition of some twiggy branches of prunus cerasifera nigra about to burst into leaf and bloom. These turn the whole arrangement into something wildly glorious and also will support the tulips as they grow, stopping them from flopping over as they so often are prone to do.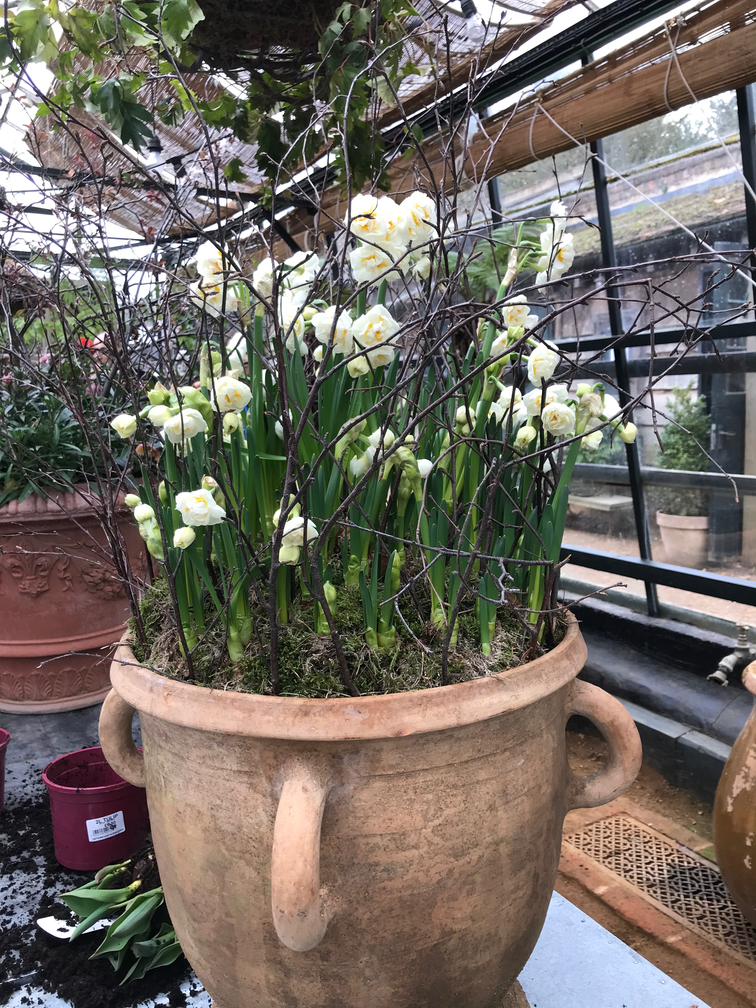 Above, a pot at Petersham of around 50 Narcissus 'Bridal Crown' with birch supports and mulched with moss. Below is my nearly finished masterpiece.
I still need to track down some moss. I will post another photo next time and let you know how it progresses and whether it survived the second snow…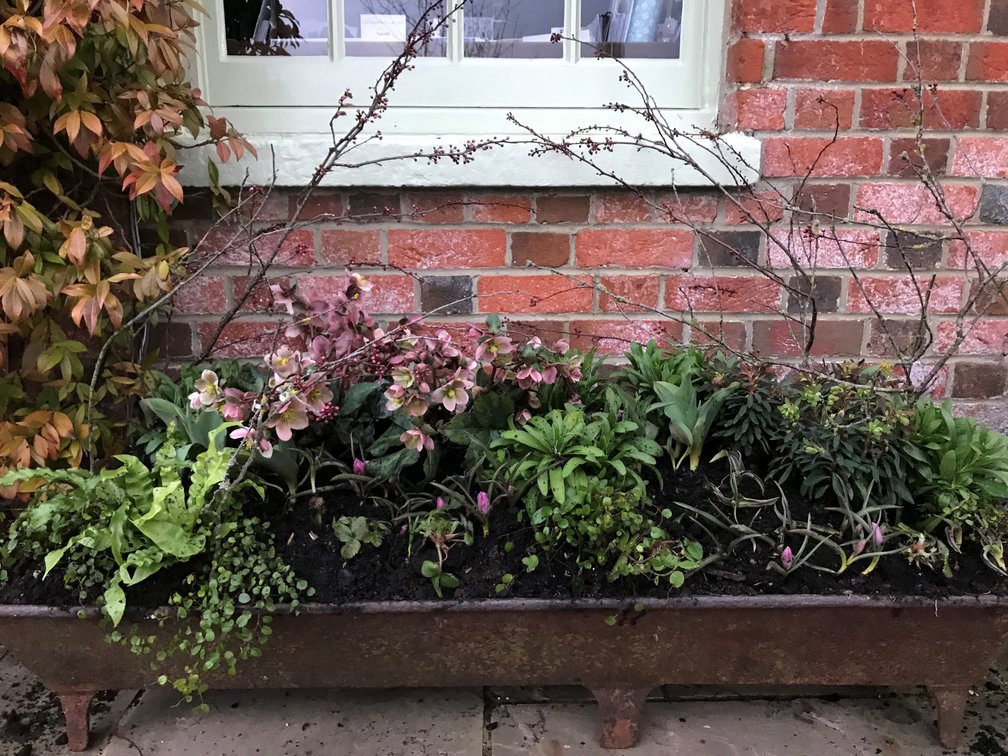 Don't miss more updates from Jennifer Benyon on our blog next month, packed with gardening advice and anecdotes.