January 9th 2018
The Haphazard Gardener - The Blessings of Trees
With the winter solstice and Christmas past us and the New Year welcomed in, I should be pouring over spring catalogues allowing my dreams to run riot. I should be contemplating the ever-lengthening days snugly curled up in my armchair at the window, pencilling planting plans into a fresh diary, secure in the knowledge that the garden has been put to bed until spring. Being a haphazard gardener, nothing is further from reality.
The front garden is a mess of weeds contained within a box (buxus sempervirens) lozenge - the remainder of an on-going mini wildflower meadow experiment. At the lower entrance to the house I am confronted by a wicker shopping trolley overflowing with unplanted bulbs purchased with the best of intentions at the beginning of November and still languishing by the door awaiting my attention. I can't arrive or leave home without the stab of guilt that is the procrastinators punishment.
The mini meadow is a work in progress. This year I tried a perennial mix - it was nowhere near as successful as the previous years' joyously colourful annual mix, so I will grub it out and begin again. The plan was to have started this already, beginning with a lasagne of bulbs, with first flowers appearing in late winter and continuing until the spring-sown annual seed mix takes over. I still think this is a good idea, presuming I can sow the annual mix in amongst the flowering bulbs without destroying their effect.
It may not be too late to get these languishing bulbs in the ground - I have been known to spend a frantic January weekend trying to get shooting daffodil and narcissus bulbs tucked in before the shoots actually become flower stalks. In the past, I have been lucky and they have dutifully accommodated me, flowering at the right time in spite of my lax habits. I have, roughly in order of flowering: mixed crocuses; Scilla siberica blue; Muscari armeniacum; Narcissi Delnashaugh; Alliums sphaerocephalon and roseum; Tulipas Dordogne, Daydream and Apricot Impression. Centrally placed is Magnolia 'Fairy Blush' - a small semi-evergreen with a bushy habit and scented flowers from March-May, then on and off until September. It doesn't mind the semi-shade of my north facing patch and flowers young, unlike some other magnolias.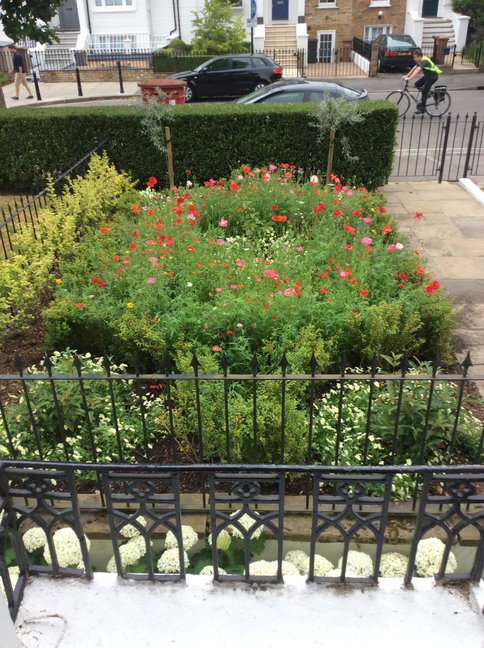 Next door's yellow witch hazel (Hamamelis mollis) is came into flower just before Christmas and is still in full swing. I am tempted, as always, to knock on the door and beg a few deliciously fragrant branches to brighten up my winter kitchen with their glorious scent. It's a big shrub, really a small tree, so can easily spare me a few judiciously snipped sprays. Whoever planted it next to the railings years ago would no doubt be so pleased to know that it continues to give a sensational olfactory treat to everyone who passes. Each tree planted in our busy city is a blessing, especially, to my mind, the flowering, scented kinds.
With my secateurs in hand, I will also pay a visit to the neighbours on the other side, who host the De Beauvoir Deli herb garden, planted by the Benyon Estate especially for their use. Now isn't the time to give the lemon verbena (Aloysia citrodora) a prune - that is an early spring job - but I will snip a few leaves to make a fragrant pot of refreshing herbal tea. With a teaspoon of London Honey it will provide a local home remedy to soothe my scratchy throat. Also known as Lippia citrodora, it's a half-hardy tender perennial, a graceful shrub with lilac to white flowers in July - August and strongly aromatic foliage. In London, it just needs a nice cosy mulch for the winter and it will even keep it's leaves in mild weather. If a cold snap does for it, you can cut it to the ground in spring and it will likely re-generate from the roots.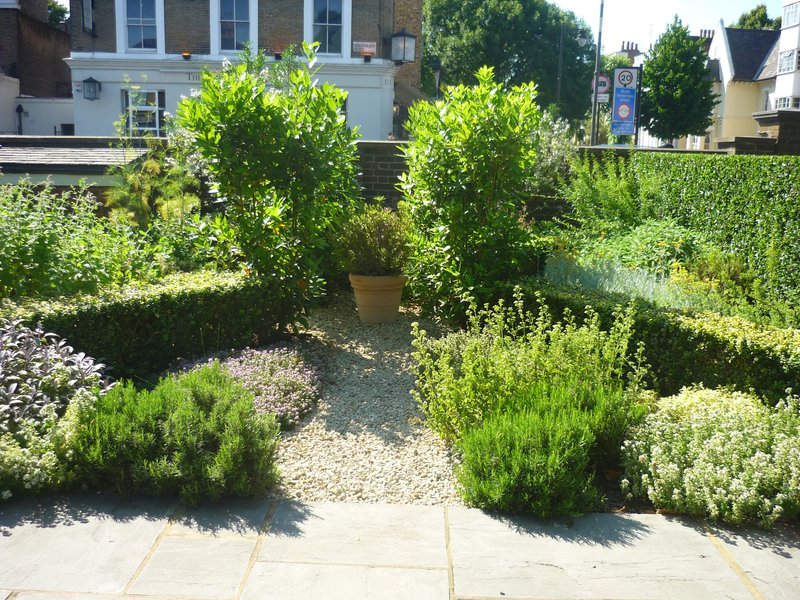 All the herbs in this garden came from Jekka McVicar's nursery. Amongst my favourites are two small bushy trees: Prostanthera lasianthos, the Victorian Christmas bush, a native of Australia and Tasmania. As with many of the Lamiaceae family, you prune after flowering, but we haven't pruned these yet and they seem very happy even though it is recommended to grow them under glass. I guess we are just lucky in London to have our very forgiving microclimate. As you can see, they appear to be thriving.
It turns out I have discussed more shrubs than trees so I offer you the biggest avocado tree in London. Grown from seed in Southgate road and actually fruiting, it ought to be an inspiration for anyone who has ever stuck an avocado in a glass of water to root, as my mother used to do. Now that indoor plants are back in fashion and the craze for avocado toast shows no sign of slowing down, anyone can plant a tree. I found an avocado seed sprouting in my compost heap. It's in a pot on the window ledge. Let's see if I can keep it alive - my success rate with things in pots is not great.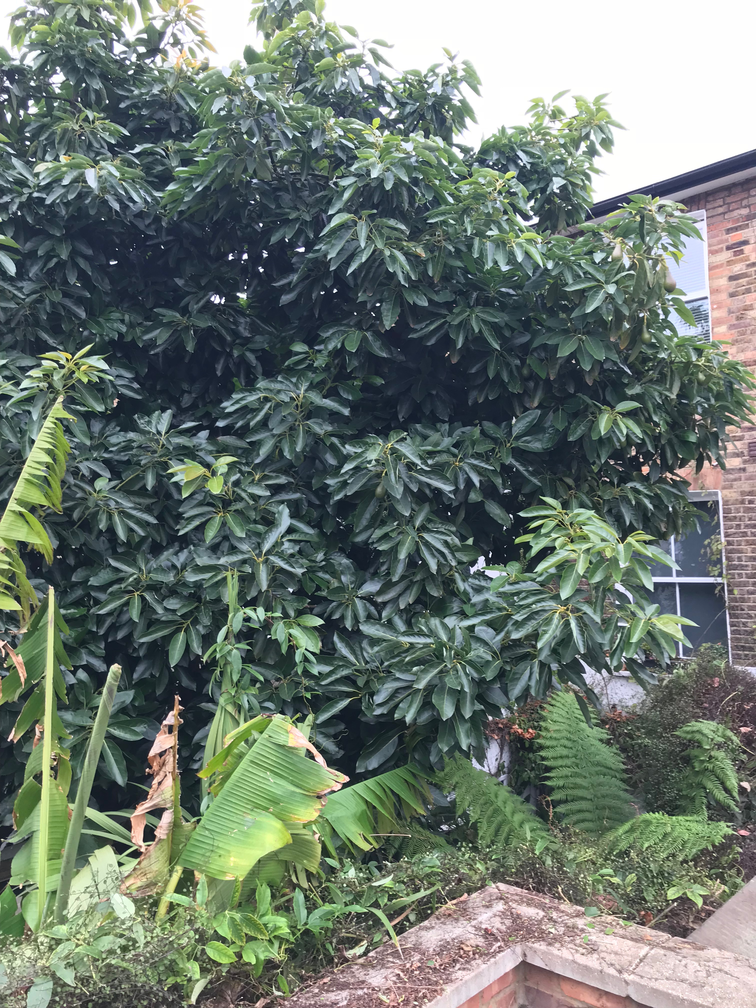 I recently had a conversation with someone about lunar gardening. Perhaps I will look into this as a way of giving these late planted bulbs their best start. I am uncertain whether adding the lunar calendar to mygardening agenda will be an incentive to be more organised, or another tool for procrastination. An initial search tells me to plant bulbs by the waning of the moon, so I may be in luck if I get out there this week. Fingers crossed that it doesn't pour with rain - I don't want to compact the soil any more than it already is.
▪ Super Full Moon: 2 Jan
▪ Micro New Moon: 17 Jan
▪ Blue Moon: 31 Jan (second Full Moon in single calendar month)
Don't miss more updates from Jennifer Benyon on our blog next month, packed with gardening advice and anecdotes.