April 15th 2020
De Beauvoir Covid-19 Mutual Aid Support Group
Since this crisis hit, around the country thousands of neighbourhood mutual aid societies have sprung up, including De Beauvoir's own organisation which is now fully operational.
Set up with the help and support of ward Councillor, Polly Billington, and the De Beauvoir Association, volunteers are actively supporting people by running errands, collecting prescriptions, doing shopping and sometimes just stopping for a chat with those in our community who are alone or anxious.
The WhatsApp group has more than 300 active and warm-hearted members exchanging information and supporting each other.
If you are someone, or know of someone who needs support but might not know who or how to ask, please contact the group on 073 9407 5597 and they will endeavour to help.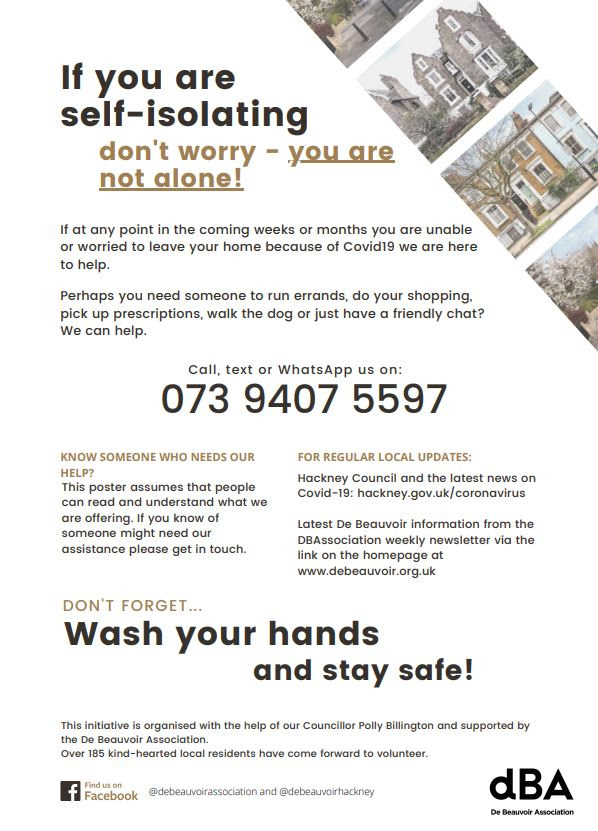 Along with keeping spirits up and organising neighbourly chats the organisation has now also set up a De Beauvoir food bank to ensure that the community has resources to help anyone in need, including those already identified as vulnerable and those who may become vulnerable because of changing circumstances.
The delivery crew has dropped off to several people and families already – observing, of course, healthy social distancing. This service is not designed to replace Hackney Food Bank but to support their work, and any excess stock is delivered to them weekly.
If you have any questions regarding the food bank please email info@debeauvoir.org.uk, or if you know someone in need please use the phone number above.
This week, the wonderful food bank team was inundated with donations of Easter Eggs which were donated to The Crib Charity (who know of plenty of deserving young children in our area) and to St. Joseph's Hospice for patients and staff to brighten their day.
The De Beauvoir organisation is always looking for help, so if you'd like to drop by with some tins or treats, please go down. The 'hub' is in a Benyon Estate property at 23 Englefield Road (next to Spice Island), open every Monday- Saturday 12-2pm.
Photo Copyright: The Benyon Estate