August 12th 2018
The Haphazard Gardener - A Gift of a Garden (Part 1)
A little over four years ago, my father-in-law, Bill, was in the Intensive Care Unit at the Royal
Berkshire Hospital in Reading. The second-storey ICU wraps around an internal first floor
courtyard. The staff room, offices, visitors waiting room and corridor all look down onto this space.
Back then, sitting with my mother-in-law and her daughters - my sisters-in-law - I was looking
blankly out of the window. My mother-in-law remarked what a shame that it was such a grim and
unwelcoming sight. I focussed my gaze downwards to the cracked concrete paving, the rotted
pergola, the weeds, cigarette butts, two miserable trees in unforgiving brown brick planters, a
cracked, scummy pond with some listless fish and a fountain that didn't so much drizzle as drool.
Somewhere at the back of my mind the seed of an idea was planted.
Bill was a person of distinction (Sir William Benyon: MP for Buckingham then Milton Keynes,
deputy Lord Lieutenant for Berkshire, High Sheriff for Berkshire, member of Reading University
Council, Berkshire County Council…) But the way I knew him best was in a pair of tatty trousers
and a moth-eaten, but lovingly darned cardigan. Secateurs in hand, he delighted in doing battle
with an unruly rhododendron or donning waders to pull out pond weed. A favourite was the joy of
piling up a tower of dead wood in preparation for that best ever garden recreation: the bonfire.
Ideally, this would be lit with some ceremony in the presence of as many children and
grandchildren as could be mustered.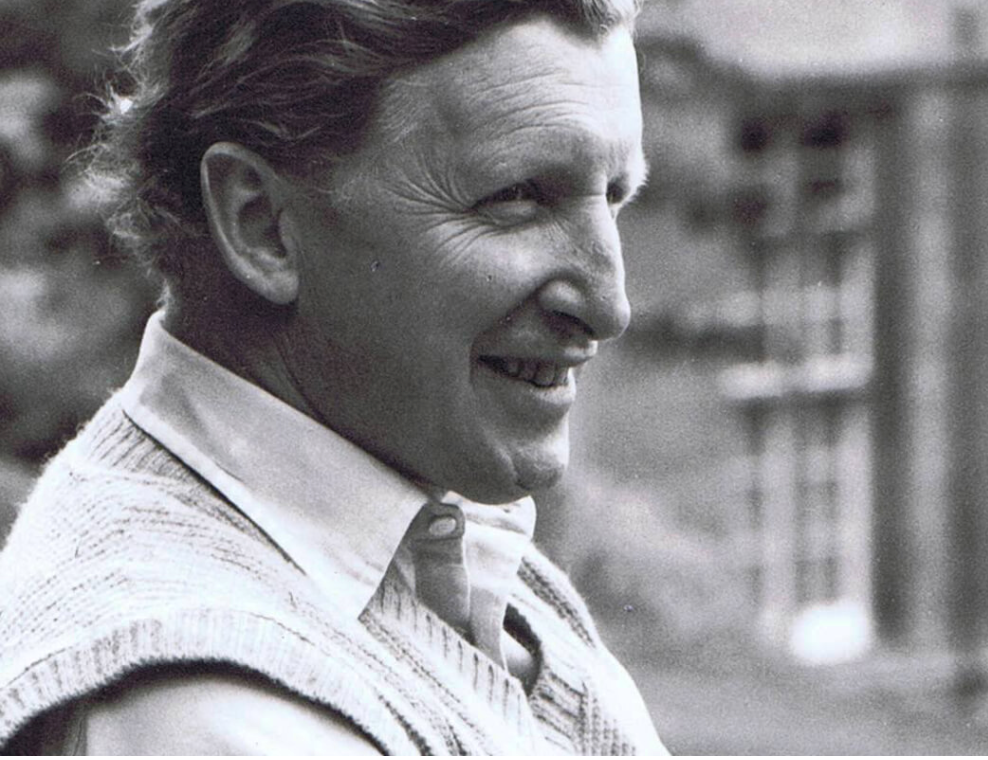 In the early days of our acquaintance, before I married his son, I was walking with him through the
beautiful garden he and his wife Elizabeth cultivated together. A little nervous, searching for a topic
of conversation, and with what I squirmingly recognise now as a certain naivety, I asked him
whether he had any advice for a gardening novice. He took quite a few thoughtful steps, then
looked up at a tree.

"I always think," he replied, "that God does it best."
To this day, when I am contemplating a conjunction of plants, it makes me smile to think to myself: what would God do?

After Bill's funeral, the notion of giving the hospital a gift of a garden in his memory began to take
shape. The Benyon family have a history of supporting The Royal Berks, as it is known. Also, Bill
had established and been a founding Trustee of the Englefield Charitable Trust, an organisation
with a broad philanthropic outlook supporting community initiatives (also ecclesiastical,
educational, social, historical…) in Berkshire and Hackney, now chaired by his eldest daughter.

The Trust could donate funds and I could design a garden. We could give the hospital a gift. An
oasis that we hoped would provide some comfort to staff, patients and visitors to the hospital. I
started thinking about what we would have liked, what kind of space would have given solace in
those hours and days of hoping for him to get better. I had to come up with a concept to present to
the powers that be at the hospital, hoping to convince them that a new garden was something they
wanted. Frankly, anything would be better than what was there.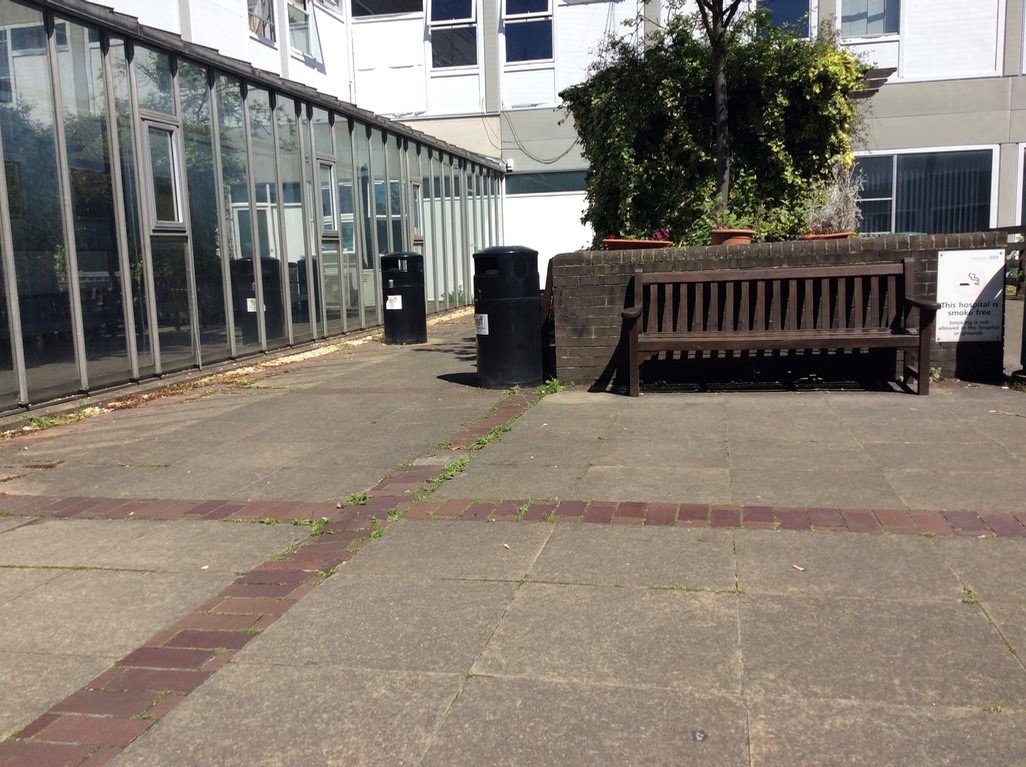 Sometimes restrictions can be helpful. They provide parameters and a starting point. The pond
had to stay, for various reasons, but chiefly because the fish had been donated through various
legacies and, as apparently proven through trial and error, kept the flies down in summer. I wanted
to keep the budget modest. I was trying to create plenty of seating areas, but I wanted them each
to have a feeling of seclusion, to be an invitation to reflect in private, perhaps shed a tear, if
necessary. This is tricky when the whole area is a fishbowl overlooked by lots of windows, including a glass wall enclosing the cafe indoor seating area.
The whole courtyard with the exception of a shady strip along the far side of the pond, was paved and blindingly sunny all day long. I didn't want to use brick or stone, it felt too hard, too unforgiving.
One day I was visiting Jekka McVicar's nursery near Bristol. She proudly showed us her new
raised beds, designed and built by her lovely husband Mac. They were made of wooden bricks put
together according to Mac's vision, some incorporating seating. A Scottish company called
WoodblocX made each bed to order. Eureka! I went to visit them just outside of Inverness that
summer. Callum and James gave me a tour and assured me they could certainly provide anything
I cared to design, all delivered on pallets within four to five weeks.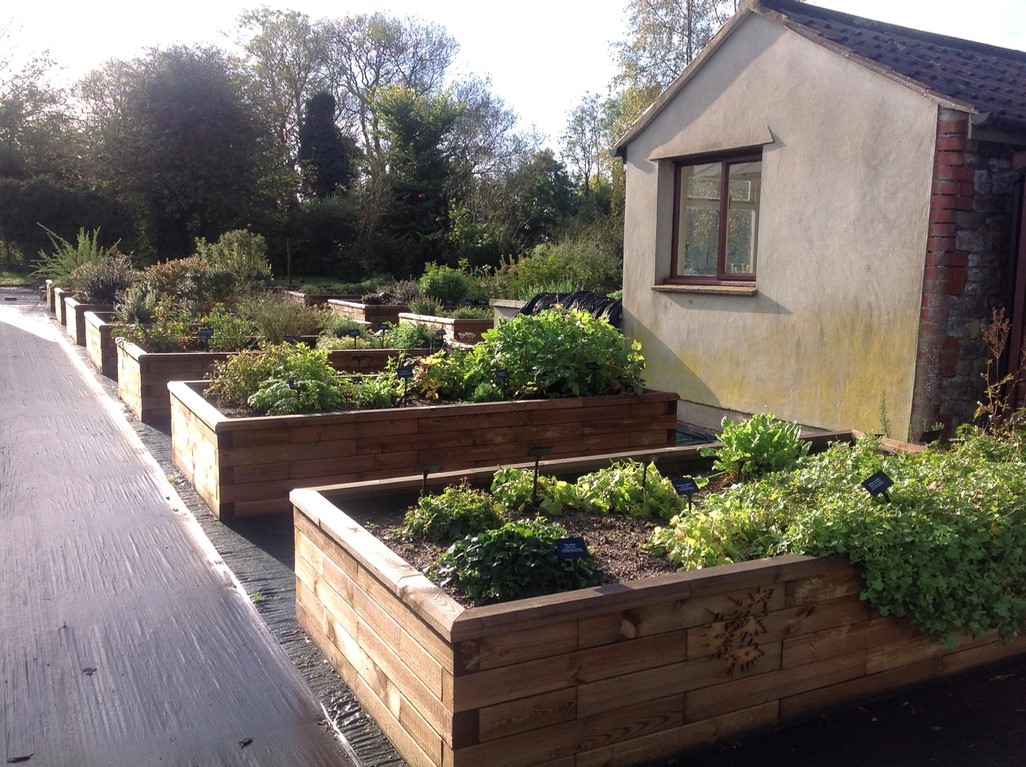 Jekka's newly built WoodblocX raised beds near Bristol
At the drawing board I was tinkering with shapes, trying to incorporate benches into raised beds. I
wanted to make as many seating areas as I could, with none overlooking another. I was trying to
make pleasing shapes that were generous and not too complicated. Trying to make as much room
for plants with their softening and soothing effect as I could in what was presently a rigidly
inorganic space. I wanted wheelchair users to have room to move around the space, to have
somewhere to sit with their families and to be able to smell the flowers that would be at the right
height for them to touch. Maybe areas for some smaller and some larger groups if possible…
Influenced by Mac's ideas in Jekka's nursery, I came up with a square raised bed flanked on all
four sides by a bench and a further smaller square bed on each corner for privacy and shade. I
was quite pleased with this concept and began to play with this shape, moving it around the drawing in the space available.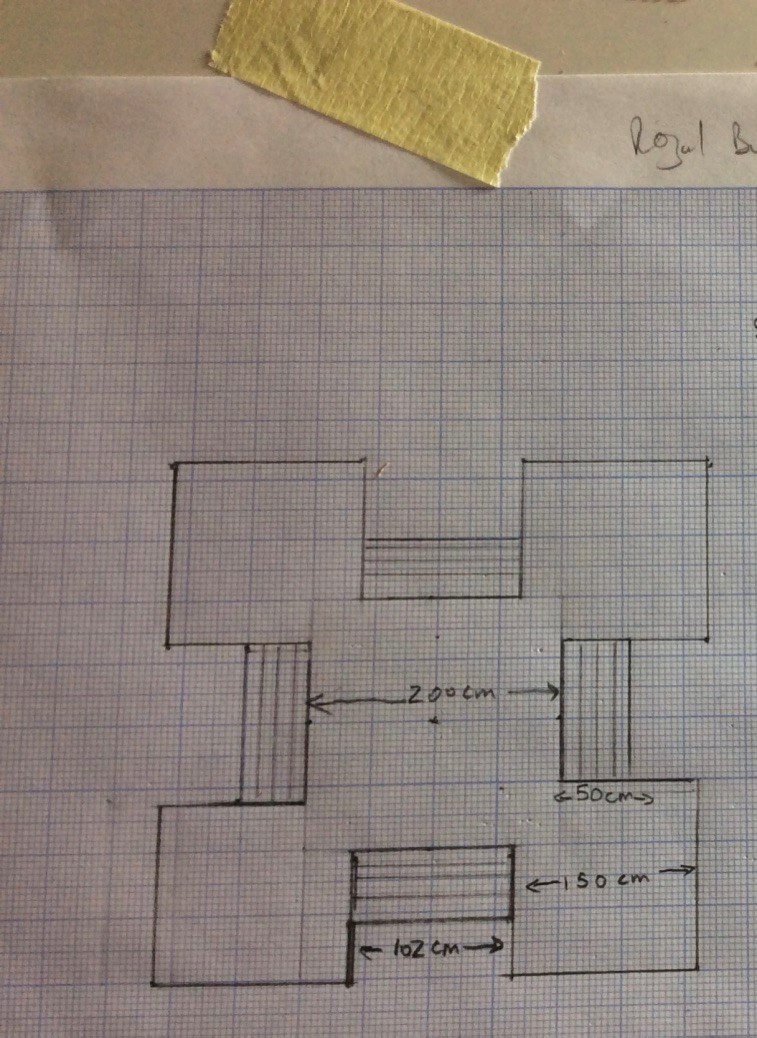 A dear friend had come to stay with us from overseas. A few years before she had been in a
terrible car accident and suffered a brain injury. Well on the road to recovery at this point, she was
thrilled to be travelling and working again. Taking an interest in the project, she poked her head
into my study to have a look over my shoulder at the drawing board.

"Oh no!" she exclaimed.

I was a bit put out. So much thought and work had gone into the design and I was really sure it
was coming along nicely. I asked her what she thought was wrong with the concept, explained my
thinking behind it, the restfulness, the privacy, the areas of sanctuary…

"No corners!" she cried. "You mustn't have corners. If you've had a brain injury, or are in pain, it's too distressing to be around sharp angles. It hurts to look at them."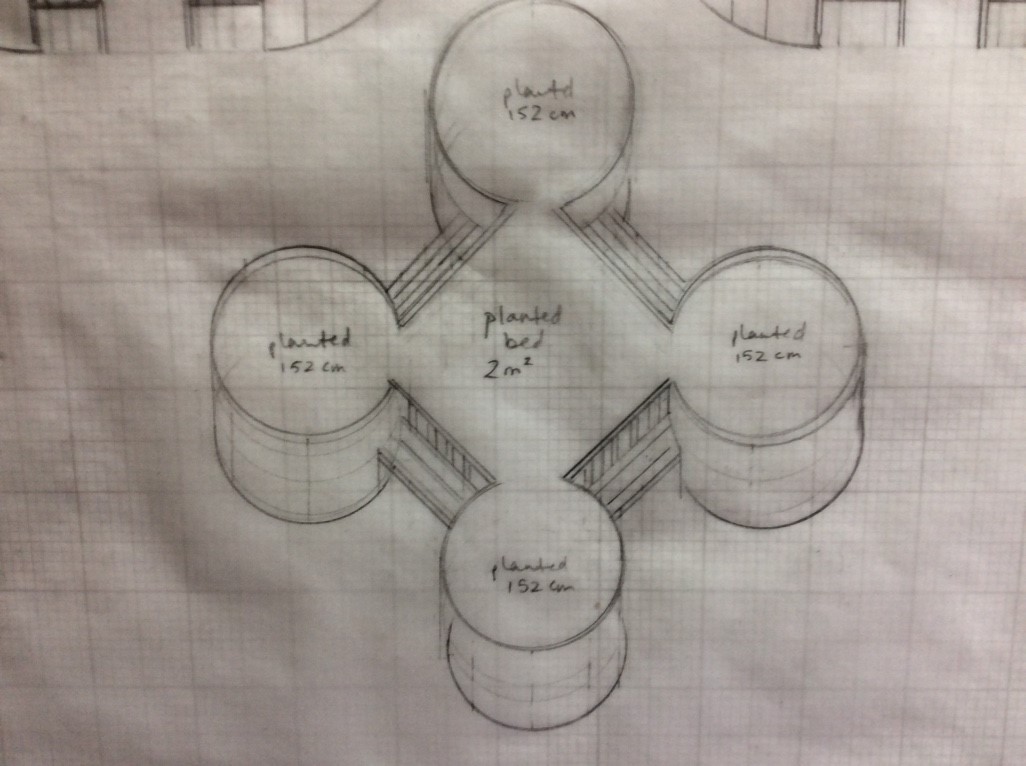 I sat back down at the drawing board and the design began to come together.