October 9th 2018
The Haphazard Gardener - A Gift of a Garden (Part 2)
After my father-in-law Sir William Benyon died in the Intensive Care Unit in the Royal Berkshire Hospital in Reading and we had had the idea to make a garden in his memory in a grim little courtyard outside the hospital cafe, it was another two years before the project was announced and two more before work started. The NHS is a behemoth and moves accordingly slowly, what with regime and staff changes and all the attendant false starts, revisions, repairs, compliances, reviews, considerations… With the continuous firm support of some key figures like the Hospital Chairman and the director of the hospital charitable foundation we were finally ready to go ahead this spring - April 2018.
One of the hidden joys of such a delay was that I had a long time to think carefully about every element of the design. For instance, the pond presented a challenge. I couldn't think how to resolve its size and shape within the design, but we didn't have the budget to change it in any way. Then one day I was walking down Southgate Road when I saw the reclamation yard had installed a five piece sculpture of a diving figure by Sophie Dickens on the roof. It was gorgeous and witty and would be perfect to make sense of the length of the pool while adding an element of humanity. It was fun. Also, Sophie had lived in De Beauvoir and been a tenant of the estate for years, so there was a pleasing added connection. As it turned out, that piece went to a museum in Portugal, but by that time Sophie was engaged with the whole idea and with huge generosity of spirit, made another Diver especially for the garden. I think it was the last piece she made in her East London studio before moving to Italy. What a stroke of luck.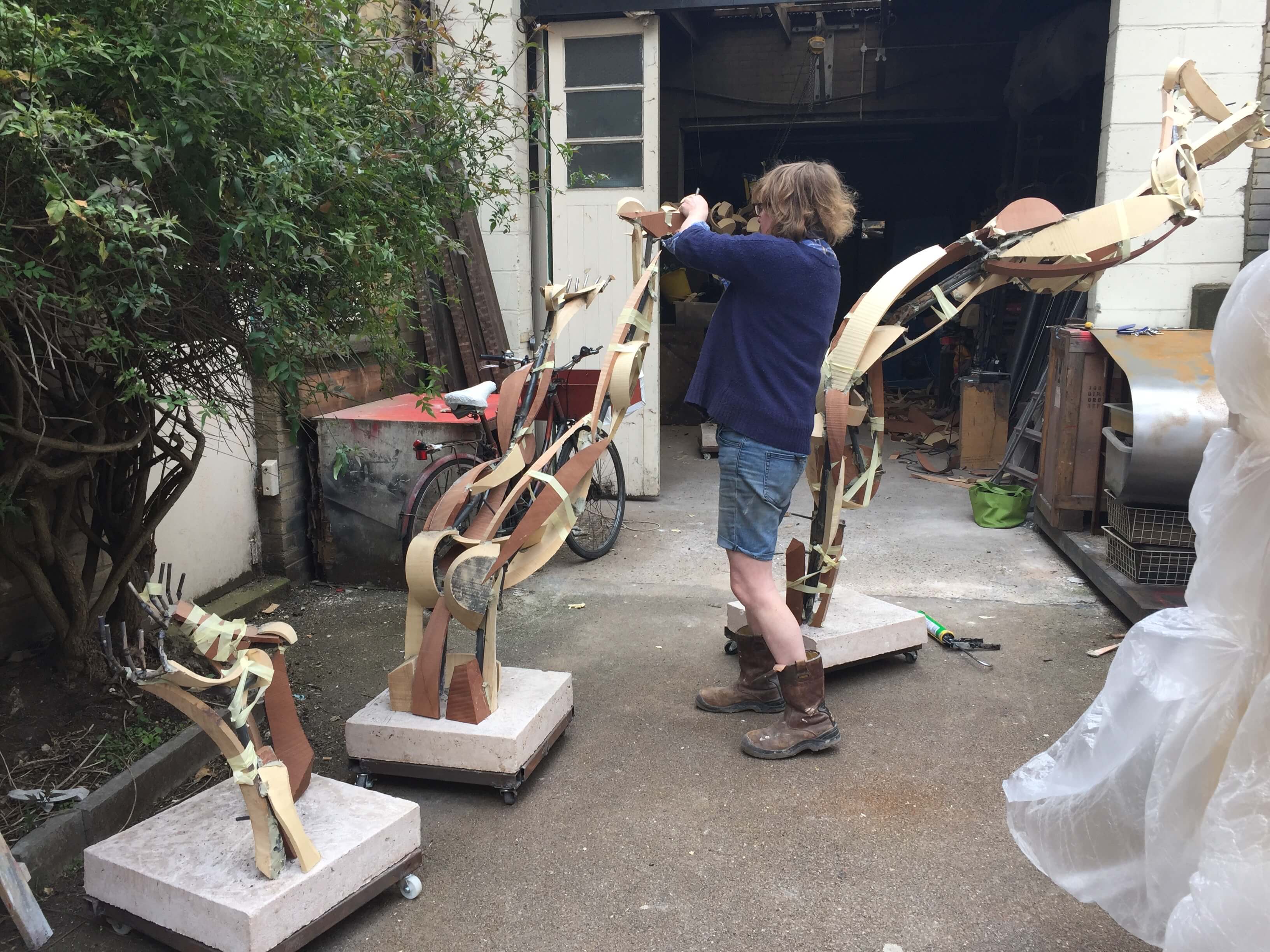 That led me to think about how I could incorporate other elements into the garden that would have some additional significance. Who else could I call upon to make an element of the garden that would have a deeper resonance, a connection somehow with Bill? The answer was across the street in Lois Anderson's studio in the De Beauvoir Workshops. We had been talking about whether we needed a sign or a plaque when I realised that the perfect solution would be to ask Lois to make us a stone we could set in the paving - much nicer than signs and plaques. She came up with a beautiful design. It was starting to feel as if it was all coming together: raised beds from WoodBlocX in Inverness near to where the Benyons spend all their summers as a family; a sculpture and a stone carving from De Beauvoir artists, both based just around the corner from their house in Northchurch Terrace… It would be perfect if I could incorporate some element from the Englefield Estate in Berkshire. I had the promise of help from the Estate gardeners when it came time to plant, but nothing concrete, nothing material to incorporate into the garden from Bill and Elizabeth's Berkshire home.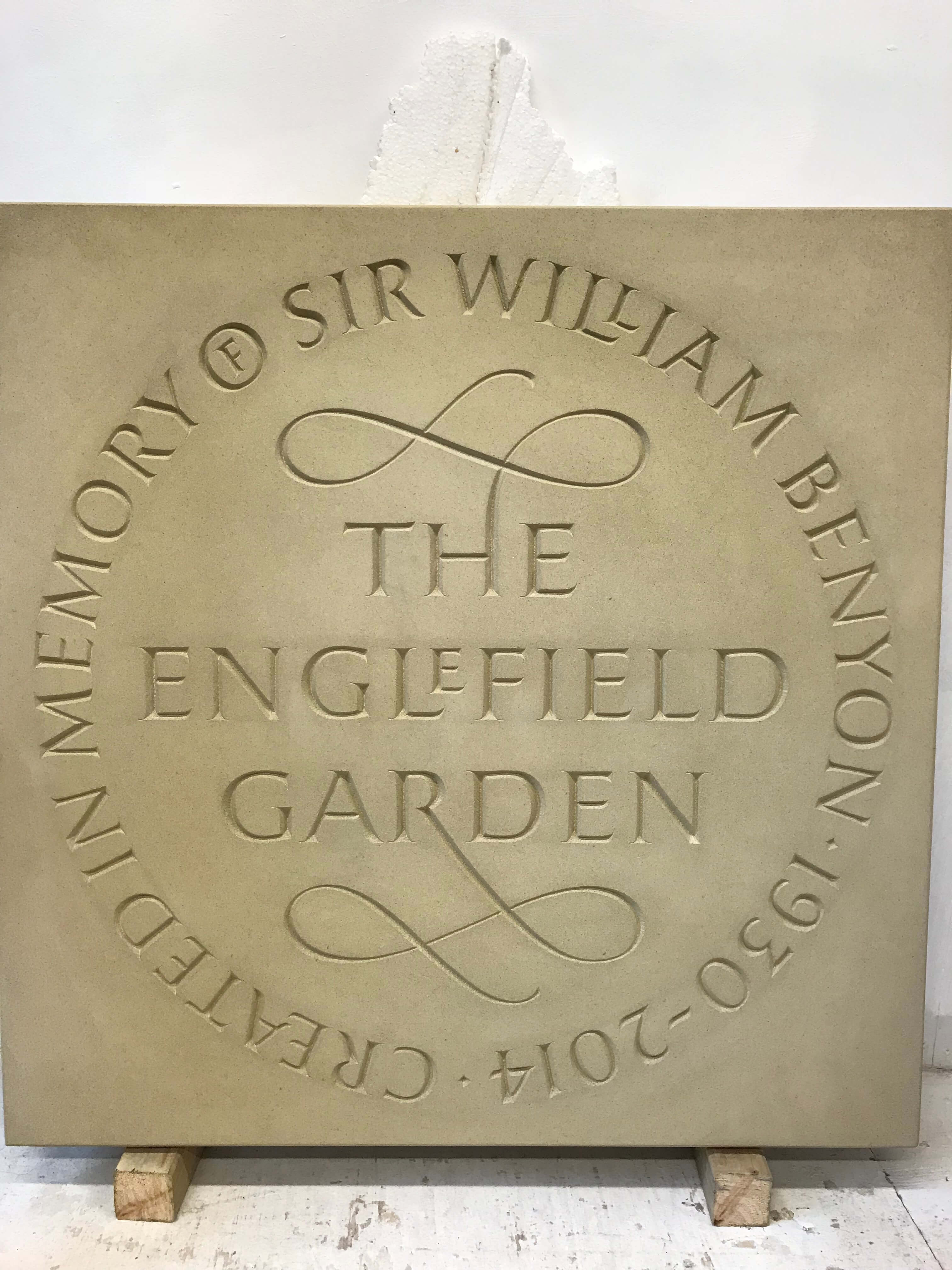 Because we had had a false start the autumn before, some elements of the garden were being stored in various places, waiting to be used. I had metal arches by sculptor Rupert Till lying in wait behind a barn. They had supplanted the wooden pergola from the original design once I acquired Sophie's sculpture - the wooden pergolas would have obstructed the view of the diving figures. What to do? In a panic I had sent Rupert, who is a friend, an example of a metal arch and asked whether he could cajole his foundry into making something similar, but quickly as we were due to start in a month and couldn't delay. He sprang to the rescue and the arches were made in no time - beautiful and graceful while also thoughtfully and carefully constructed to be strong enough to withstand any climbing children, just in case. Then we lost our project manager and everything had to go into storage on hold.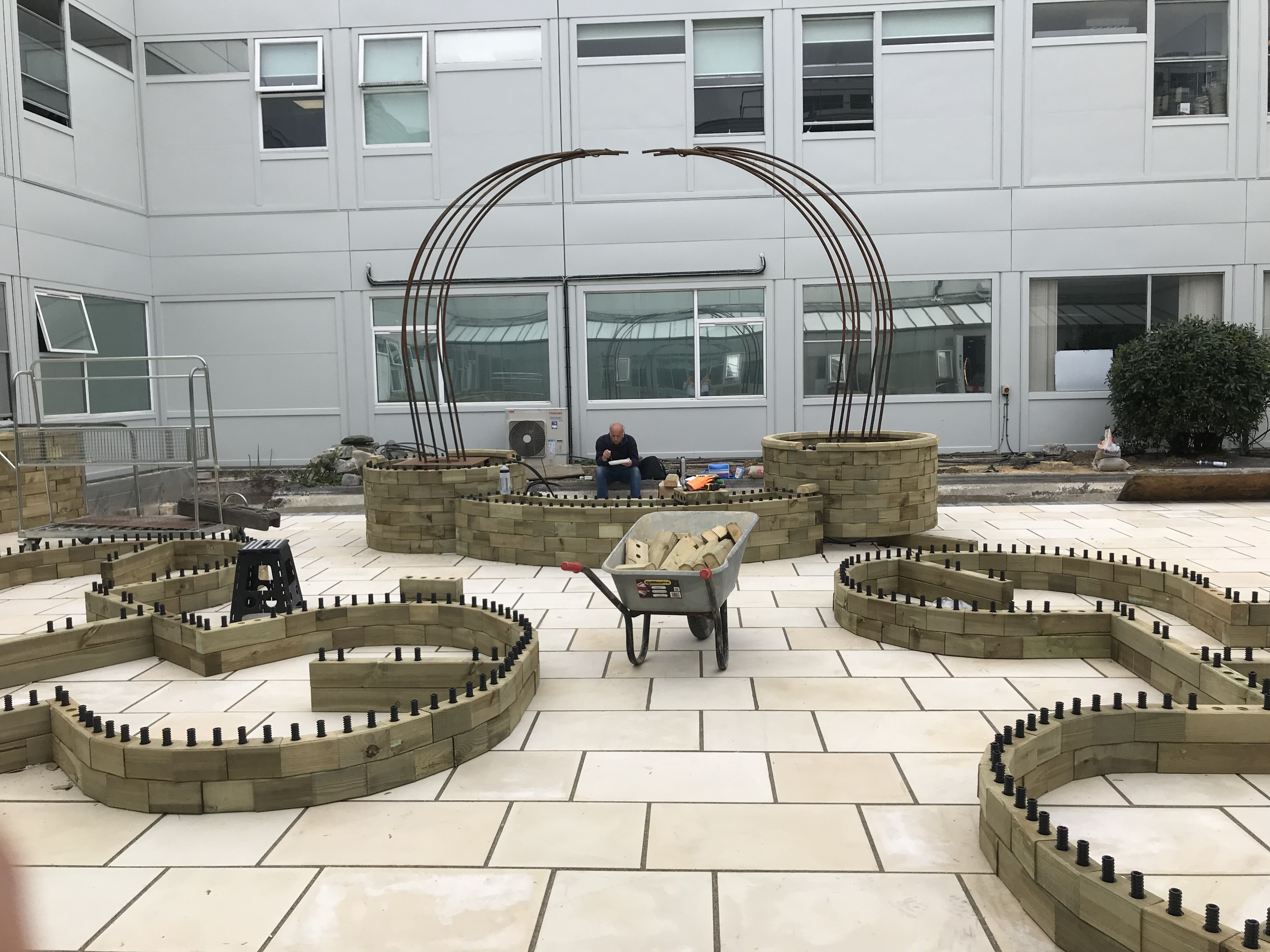 I had a call from Ammonite Fencing. Andy Wrigley wanted to reassure me that he could store the glass pool fencing until we were ready.
I was feeling a bit low at the delay, but he insisted I didn't lose heart, convincing me it would all come together and that it was a great project, worth hanging on for.
We got chatting about the two seating areas by the pool and how the pergolas had been changed to arches now that we had the Diver to display. Being justly proud of the beauty, simplicity but most importantly the safety, of his glass fences, he mentioned that having the benches right up against the glass would also obstruct the view, as well as being a little bit dangerous if those anticipated climbing children were feeling energetic.
That gave me pause for thought, it's a public garden and health and safety is one of the key considerations. I started tinkering with the design, changing the seating positions to be safer and the shapes more pleasing. If the delay hadn't happened, I probably wouldn't have made that final adjustment. Clouds and silver linings…
At one point Sophie's Diver was being stored in a shed at the woodyard on the Estate in Berkshire. I arranged with Richard Edwards, the forester, to visit it one day, just to make sure it was all safe and sound. While I was there he began telling me about a carpenter and wood carver who was working out of one of the sheds at the back of the woodyard. He took me to meet Nick Speakman in his workshop full of sweet-smelling sawdust, swooping owls and wonderful tree root planters. He was working on a bench for a Chelsea Flower Show garden, shaping a piece of Englefield oak into a gorgeous curved seat and the element I had been missing was there before my eyes. I sent him a drawing of my re-designed curved benches and explained that while WoodBlocX could do the straight bench seats in the planters they couldn't do the curved seats - could he help by any chance? Yes he could, and the garden had its element of Englefield. I was delighted.
When we finally started to build the garden, I was a seething mass of insomniac insecurities bundled together with taut nerves mildly suppressed by a veneer of controlled hysteria stretched tight as drum and pinned down tightly with an air of smiling effortless confidence. What if I'd got the measurements (checked one thousand and seventeen times) wrong? What if the design looked clumsy? Overbearing? Was the planting plan going to work? Had I ordered enough plants? Would the watering system actually work? What if the plants all died? Who had this ridiculous idea to make a garden here anyway?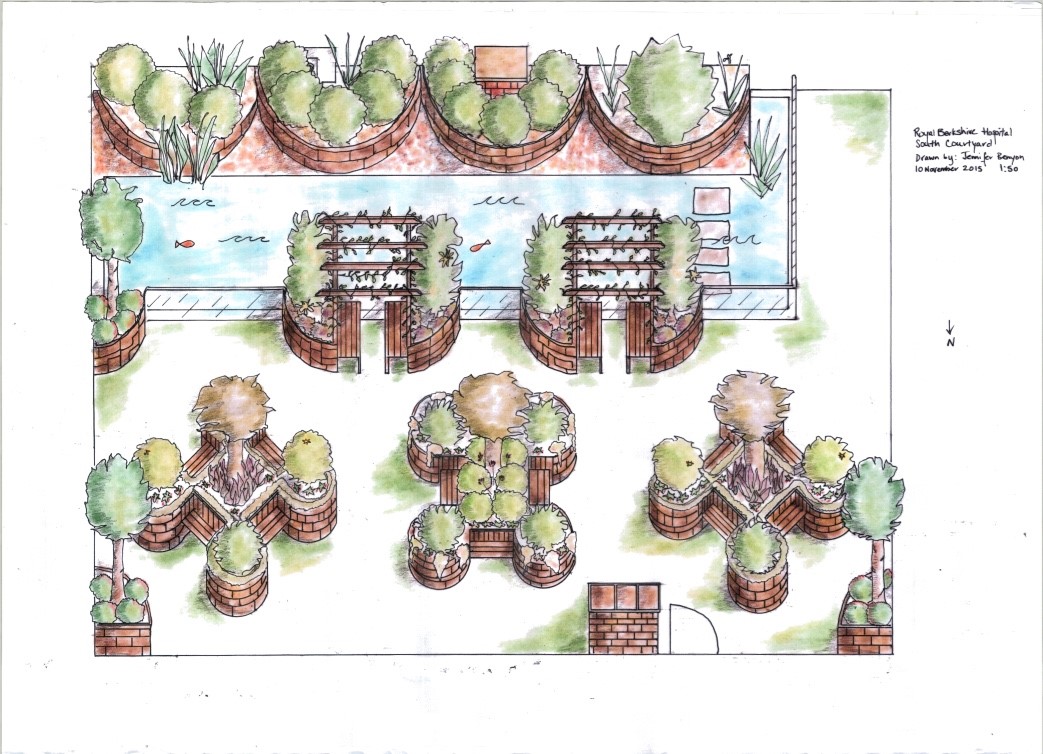 The contractors John Goldsmith and Dai Maddox at 360 Construction were reassuringly calm and capable and in charge. The project manager Amir Danaei at Deacon and Jones kept it all under control. Sue Broughton, the Head Gardener at Englefield and her team of gardeners, Ryan, Barry and Mark showed up and helped to make short work of the planting when all of the gorgeous plants from Hortus Loci, Hardy's Cottage Garden Plants and Architectural Plants turned up. All the plants were chosen for year-round interest, low maintenance, ability to live in (albeit large) containers. Everything had to be wheeled through the busy hospital corridors. The trees had to fit through the doors. It went like clockwork until Tony from Kingfisher Ponds found the one thing we had hoped not to discover: a crack in the pond. Work stopped. By this time though, it was impossible to turn back. The repair was made. We carried on. The garden was built and planted, the pond was refilled, the fish put back in, the fountain turned on, the beds given a final dose of Carbon Gold to keep the soil sweet and a bark mulch put on top, the watering system was given a few tweaks, the lighting tested, and we were done.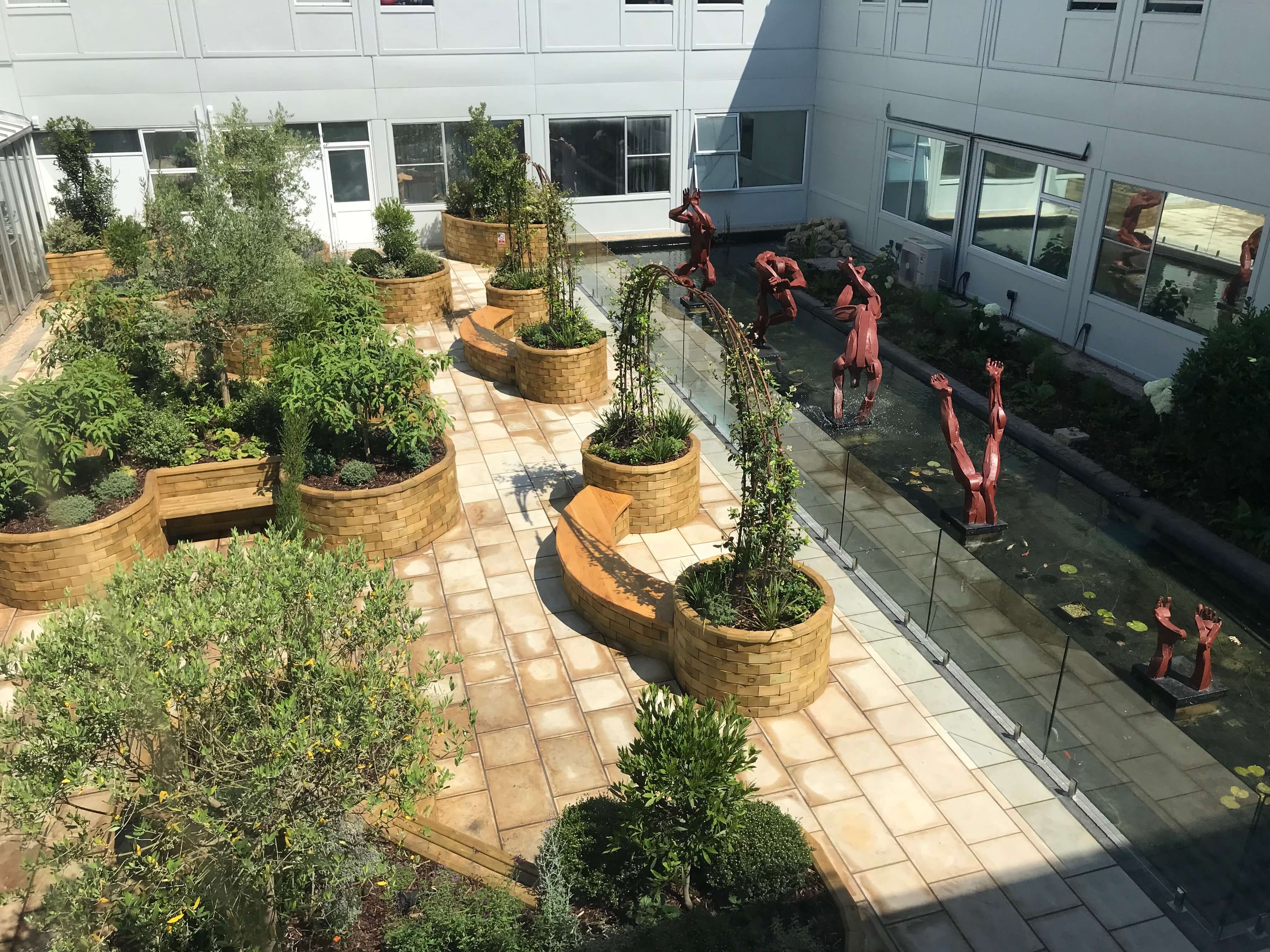 I went back to take some photos from the ICU window where we had looked sadly down in May 2014. A critical care nurse appeared at my side. She said, "We've been watching you from our staff room window since you started coming. It has taken a long time. I looked after your father-in-law Sir William when he was here. You know, sometimes the people in Intensive Care start to get better. When that happens we take them downstairs to the courtyard, sometimes even wheeling them in their beds, for some fresh air.
"This garden makes such a difference, thank you."
Then a consultant introduced herself. She also had looked after my father-in-law. She is there in the ICU at all hours and sometimes her job is hard. She told me that the other night she was there, very late and it had been a terrible day. She went down to the garden. It was dark but the lights were glowing on the plants and the fountain was on. It was somewhere to sit and collect herself. Her actual words to me were:
"Thank you, I can't believe anyone thinks we deserve this."
Oh, but we do.
Thank you NHS. Happy 70th Birthday.
To read how the hospital garden project all started, click here.
For the garden hospital opening, read here.
In memory of Sir William Benyon...