November 2nd 2021
J Smith Esquire: From fashion to film
Acclaimed milliner Justin Smith of J Smith Esquire has created hats and headpieces for fashion weeks and runways across the globe, his work has been sold in boutiques and renowned department stores worldwide, and he creates bespoke pieces for private commissions.
Since 2010, Justin has expanded his work creating pieces that have adorned a wide range of famous heads, including Amanda Seyfried in Pan, Robert Downey Jr. in Dolittle, and he was principal milliner on Star Wars: The Last Jedi.
Perhaps his most iconic piece was the magnificent horned headpieces for Maleficent, with Angelina Jolie taking an active role in the design process during fittings with Justin at Pinewood Studios.
This year, you might have seen some of his work in Disney's Cruella, with Justin's hand- draped designs worn by Emma Thompson in her role as The Baroness.
Justin is based at his workshop and fitting room on Southgate Road. We spoke to him about his work on the live-action feature film.
"I usually work on principals, and I'm known in the film industry for quality and craftsmanship, refined with couture sensibility"
"I usually work on principals, and I'm known in the film industry for quality and craftsmanship, refined with couture sensibility," Justin explained.
"For Cruella, I worked with a talented wardrobe department led by Oscar-winning costume designer Jenny Beavan. The process started with meeting the dressmaker and learning about the character. The costume department plays a key part in helping the actors bring their character to life, it's a creative collaboration.
"We discuss a brief, and I'm usually brought on as a designer-maker. There is a lot of research and design work that goes into all my pieces, as each has to be unique and credible.
"For Emma Thompson's Baroness, I wanted shapes that could really speak for themselves that would help to tell the story of her character.
"Working with a head block, I developed my designs, and they were sent to Emma for fittings, due to distance in this case. Emma then returned photographs of herself wearing them, so I could refine and complete the pieces.
"Each of the turbans was hand-draped, sewn into place and elasticated, so it could be taken on and off as you would a hat, still with the illusion that it was wrapped directly onto the head."
Justin began work on the turbans for Cruella two years before the film was released, a long wait from studio to screen.
"My job is to create a beautiful tool for the costume designer and the actor to help them embody the character. I often have to create two or three versions of each design of hat, which all have to be identical.
"I love seeing the final production, it all becomes so much more than the sum of its parts. There is endless work that goes on behind the scenes that you don't think about when you see the film on screen...but that's all part of the magic of cinema."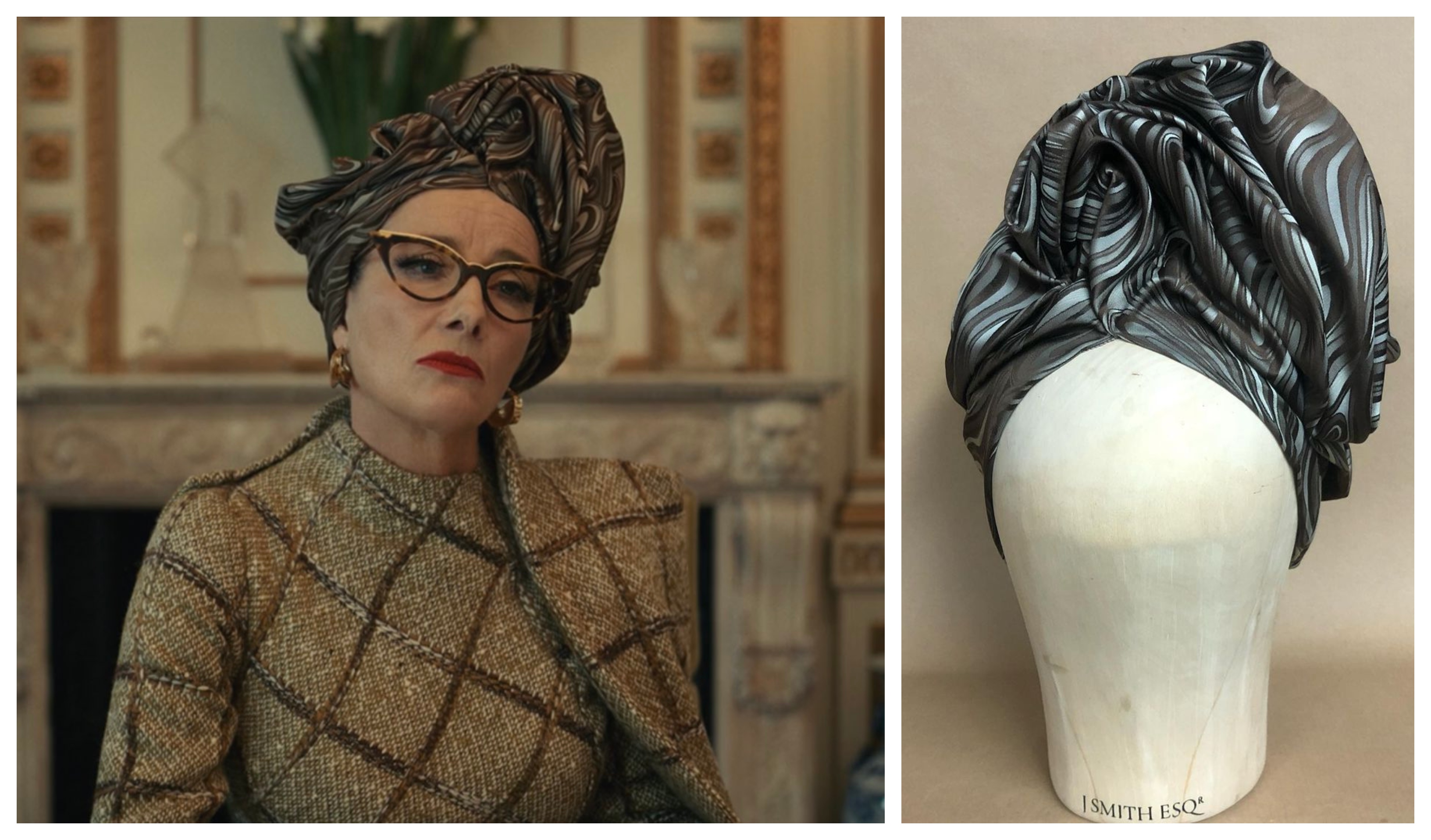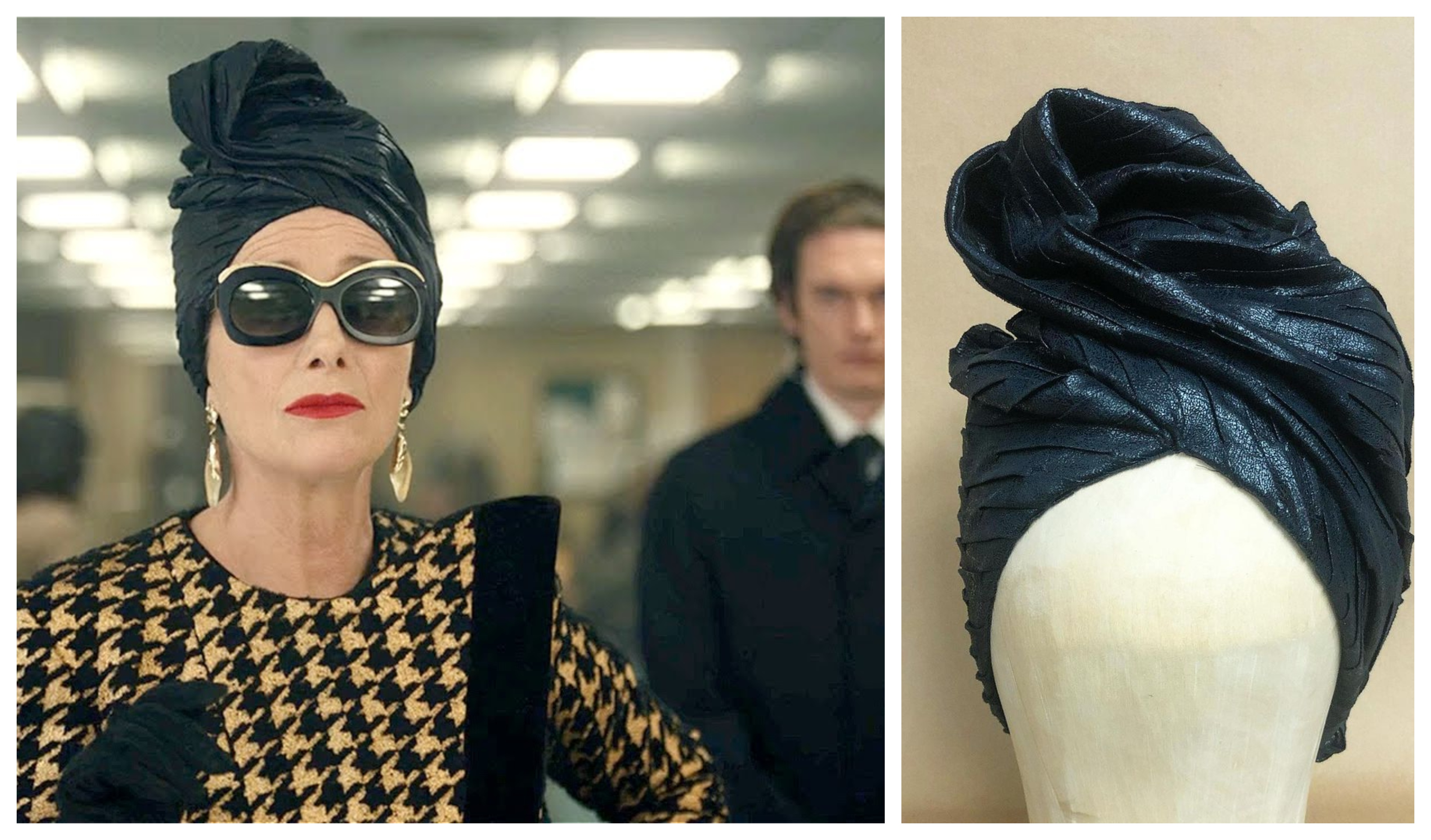 Coming to screens this November is season two of The Great, Hulu's comedy-drama series starring Elle Fanning and Nicholas Hoult.
Loosely based on the rise to power of Catherine the Great, Empress of Russia, the series features hats made right here in De Beauvoir Town.
"The joy of working on The Great was that combination of period style and comedy, meaning I could do something really creative," Justin explained.
"I worked with an amazing costume designer Sharon Long on some exciting headwear for the second season as the characters evolved and also recreated an iconic piece from the first season. It was a case of keeping the identity and integrity but sharpening it up. But there were also some wonderful new characters that needed something entirely new and bespoke.
"As with any film project, there is a lot of research that goes on behind the scenes to get the piece just right. For example, for most of the period pieces I have researched into the materials, and techniques that were fashionable at the time. But it's essential to maintain a contemporary edge and adhere to the current tastes."
Justin began his career as an Avant Garde hairdresser, with his sculptural hairstyles featured in photoshoots for global fashion brands.
He started learning millinery at evening classes, going on to complete an MA in Millinery at the Royal College of Art, receiving critical acclaim for his graduation show. He began working predominantly on handmade, bespoke commissions as well as pieces for wholesale and prestigious retailers, such as Barneys in New York. However, Justin always had ambitions to work in the film industry.
He added: "As an accessories designer, I work closely as part of a team of talented artisans, each at the top of their game, working hard to achieve the very best results. Each film brings fresh challenges, and every costume designer has their own style. It has been a hugely enjoyable learning curve."
Read more about Justin's journey here or follow him on Instagram for updates.
In photos:
Banner: Photos' mixture of the below
Photo 1: The Great, with Elle Fanning, Nicholas Hoult, and Gillian Anderson Photo Copyright @ BritishVogue
Photo 2: Maleficent, with Angelina Jolie Photo Copyright @ Disney
Photo 3: Cruella, with Emma Thompson Photo Copyright @ Disney
Photo 4: Justin Smith Esq @ JSmithEsq