May 24th 2018
Hackney New School pupils visit their school for the first time
Children and teachers have been given an exclusive preview of what will soon be their brand-new
school.

The 350-pupil Hackney New Primary School is currently under construction at the site of the former
Kingsland Road fire station with pupils currently being housed nearby in temporary portable cabins.

After donning hard hats and high-vis vests, children and staff, who are looking forward to moving in
to the state-of-the-art building next spring, were treated to an early viewing of their school which
wraps around a central courtyard, the heart of the school and an "oasis of calm".

Headteacher Siobhan Campbell, said: "The children, and their parents, were buzzing about the visit
afterwards. It was so exciting to see the plans coming to life. To be inside and experience the
different perspectives of the building was really special.

"So much effort and thought had been put into the visit from the team, from how clean and
prepared it all was to the specialist visuals and safety gear provided.

"Clearly a lot of time and resources had been dedicated to the visit and we are very grateful for the
hospitality and kindness of all those from the Benyon Estate and Thornsett who made it possible for
us to take all of the children and staff."

Edward Benyon, Estates Director at the Benyon Estate, previously described the achievement of
architects Henley Halebrown in creating an "innovative and futuristic" environment for the school's
much anticipated permanent base as "incredible".

"It was important to us that the children and staff had the chance to visit their new school as soon as
it was possible," Edward said. "They will be the life and soul of the space which has been expertly
and thoughtfully designed to ensure all the important people inside thrive."

The two and three storey school will include a gallery which will extend around the entire first floor
level providing shade and shelter for the playground below. Large windows will ensure classrooms
are flooded with natural light, and recessed windows skirting the playground will provide deep
window ledges, doubling up as benches.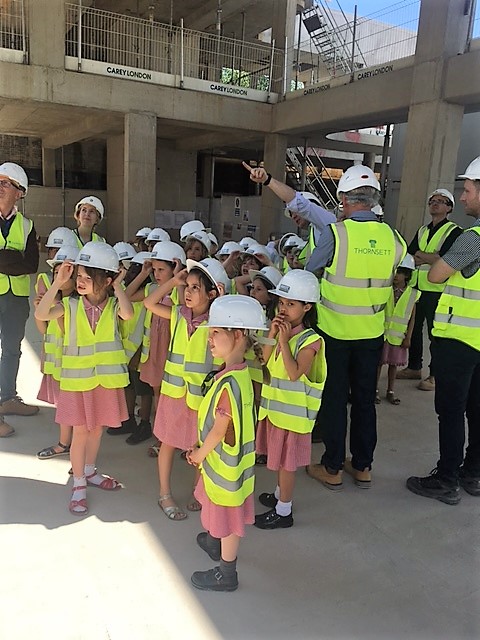 A roof garden will add another dimension to the life of the building while contributing to the
biodiversity of the surrounding environment, with the children encouraged to take ownership over
the planting.

The multi-use outdoor space will include a number of play features and seating areas and a light
cream glazed brickwork façade will create a bright internal space.

Founded three years ago, Hackney New Primary School is a music specialist free school with the
private development partnership between the Benyon Estate and developers, Thornsett enabling
the provision of additional facilities such as its two music rooms and two studios.

Simon Henley, from Henley Halebrown, previously said: "A strategic aim of the design was to
maximise usable outdoor space within the school grounds and to create a vibrant and
multifunctional learning environment that promotes interaction with nature."