June 9th 2019
Hackney charity receives funding to transform more young lives
A project which transformed a young man into a Channel 4 reporter will receive funding from the Benyon Estate to continue for another year.
Voice Of Youth And Genuine Empowerment – or Voyage Youth – has been running its Young Leaders for Safer Cities (YLfSC) BTEC accredited course in leadership for the past eight years to help young people develop the skills to improve their prospects in education and work.
Its alumni include Symeon Brown, who became a reporter for Channel 4 news. Others have successfully secured roles in a wide range of businesses, from global corporations to local SMEs.
The Hackney-based charity aims to create young leaders who make better decisions for themselves and their future by helping them to understand what opportunities could be available and helping them to develop the right skills to achieve their goals.
15-year-old Sophie, a member of Voyage Youth, said: "Feeling part of a family is something that drew me in. The staff and the team are incredible people. They are great positives for Voyage and I feel like if we didn't have the amount of support we receive from the team it wouldn't be as effective. I just want to be in a position where I can make change. This programme has helped direct me."
Working predominantly with 14 to 19-year-olds, participants are referred to the programme via schools, youth clubs and other groups.
The Benyon Estate, a family-owned business in Hackney's De Beauvoir Town, is supporting the YLfSC programme for 2019, providing funding, work experience opportunities within the Estate team and reaching out to its network of commercial tenants and business connections to provide other opportunities.
Edward Benyon, Estate Manager for the Benyon Estate, said:
After hearing about Voyage Youth's work, myself and my wife Jennifer went along to one of their workshops and were so impressed with what they were doing, how many young people were there and how engaged they all were.
We knew right away that this was something we wanted to support and have been working with the team ever since to see what we can offer.
"The students at the workshop were all intelligent and enthusiastic young people who, for whatever reason, haven't been given a chance to develop their skills and gain work experience. By supporting Voyage Youth's leadership qualification programme, both through funded support and the offer of work placements, we hope to give them the skills and focus to succeed in their chosen career path."
The Benyon Estate is also supporting Voyage Youth's careers day, an annual event where 14 and 15-year-olds meet a wide range of local businesses and learn more about the job opportunities that are available. This allows them to align their GCSE choices with their career aspirations.
Paul Anderson, CEO of Voyage Youth, explained: "When Edward and Jennifer came to our workshop, I felt there was a real connection and understanding of the work that we do. We're excited about what the partnership with The Benyon Estate will enable for our kids.
"The mission of Voyage Youth is to challenge stereotypes and help our young people embrace their culture, identity and community and not let it hold them back. I believe that the negative stories in the press about youths are a self-fulfilling prophecy and we want to change that narrative.
"The aims of the Young Leaders programme are to inspire young people to influence and shape local services, to ensure their voices are heard, and to support progression opportunities from education into the world of work."
As well as the leadership programme, the charity runs seminars, workshops and short courses covering a range of topics, including violent crime, and stop and search rights, as well as running the South Hackney Leadership Academy and the Young Black Positive Advocates for graduates of YLfSC course.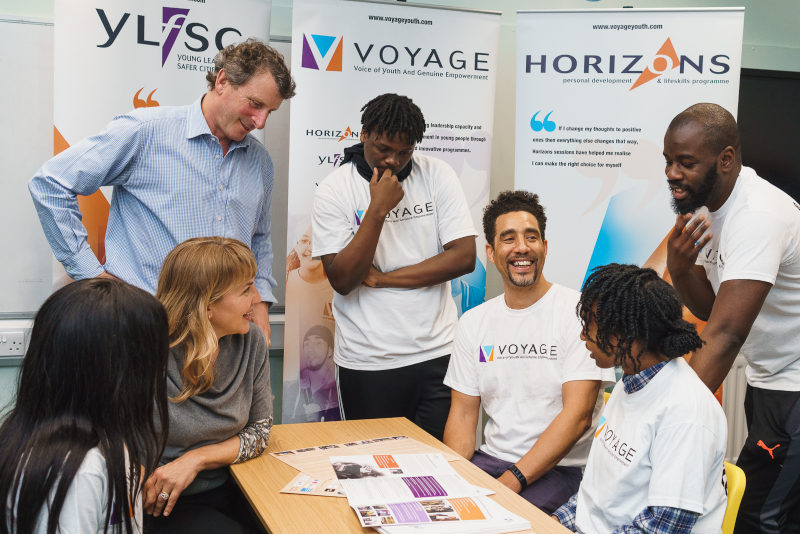 Paul added: "Part of our work is also supporting students after their course, helping them to use their new skills and realise their ambitions. Our longer-term aim is to increase diversity in corporate environments; we've come a long way with this but there is still work to be done.
We can't do this alone, so rely on the support from businesses like The Benyon Estate to provide opportunities, resource and funding.
To find out more about Voyage Youth, visit voyageyouth.com or to discuss how you can get involved, call 0207 613 8343.