November 3rd 2020
Creating colourful creatures in De Beauvoir Town
Local artist Caroline Griffiths has been providing some colour to the streets of De Beauvoir Town over recent months with displays of her artwork in her windows.
As children and adults alike were heading out around the Town for their once-a-day exercise under the lockdown restrictions in March and were spotting rainbows in neighbours' windows, Caroline brought a different burst of colour.
"I decided to do something slightly different and started painting native British species to show just how beautiful our wildlife is and I gradually filled up our front window," Caroline explained. "It was lovely to hear the excited voices of young children in the street as they spotted something new. Over the summer I had three different full sets of windows and one epic painting with all twelve panes filled with humpback whales.
"My first painting on 30th March was a very simple large shiny ladybird and lots of young children have told me this is their favourite. But I enjoyed painting all of the animals – whether slugs or birds or marine life - as it was wonderful studying their amazing details and dazzling colours and patterns, and I ended up doing well over 30 of them.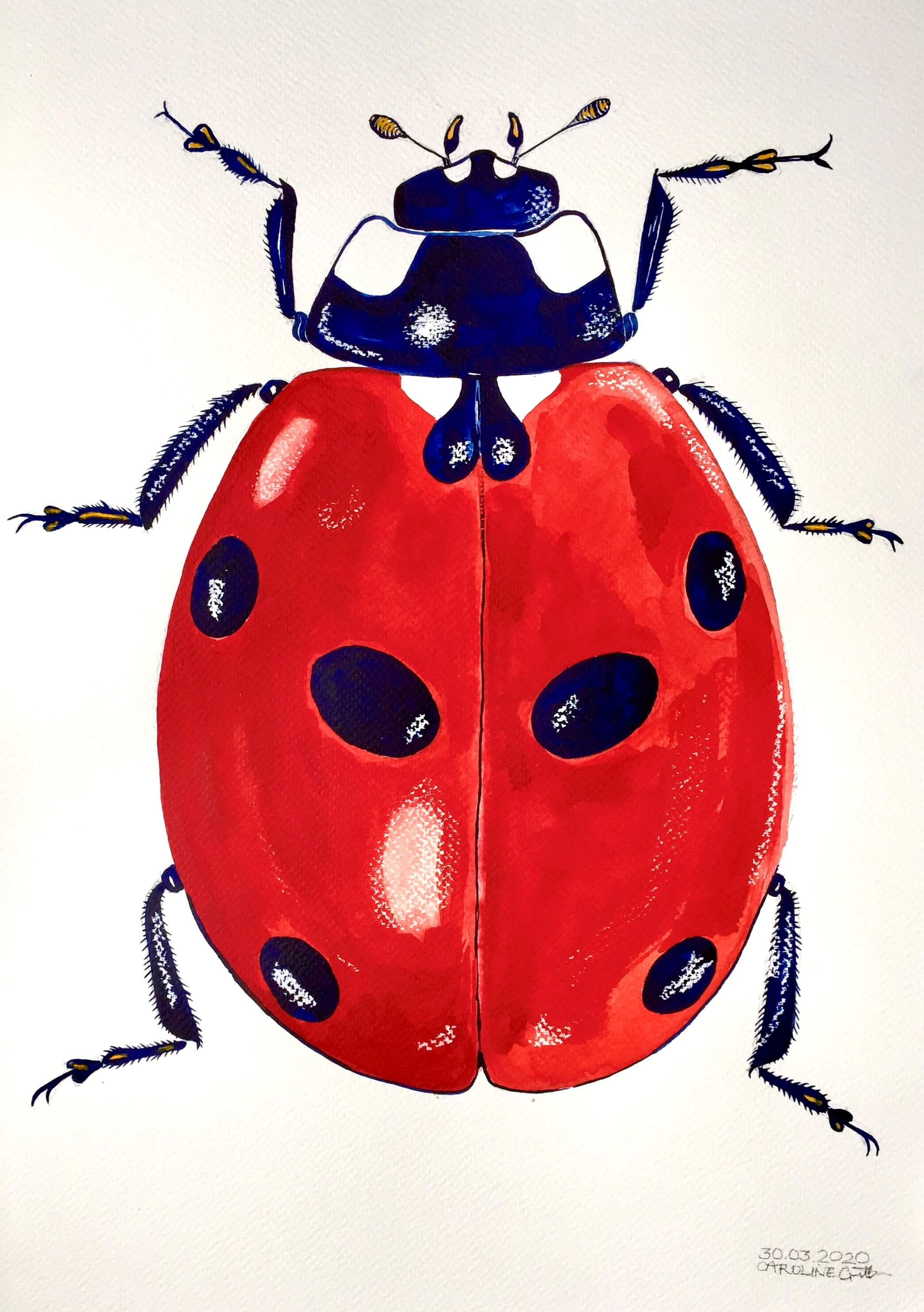 "When the first lockdown was eased, it was time for the paintings to come down but for one week only in September to coincide with the De Beauvoir Art Show I put some pictures back up. This time I made one exception to my native species rule as I had found an extraordinary and exquisite non-native nymph shield beetle in my garden."
Caroline has lived in De Beauvoir since 1986 and her work aims to reflect her love of the area. She studied Fine Art at City Lit London and finds inspiration in the natural world, from remote destinations to closer to home along the Regents Canal.
Caroline's work - in print form and cards - will be for sale at the upcoming online De Beauvoir Christmas Fair, taking place from 26 November through to Christmas Eve, and the De Beauvoir Christmas Shopping Trail, taking place after Lockdown on 6 December across De Beauvoir Town. Visit the De Beauvoir Association website for more details of the events - www.debeauvoir.org.uk.
You can see more of Caroline's work on her Instagram @MyDailyDrawingProject or on her website www.carolinegriffiths.net where many of her paintings are for sale.
For every Window Art painting sold, Caroline makes a donation to the Wildlife Gardeners of Haggerston, a group of volunteers who have transformed our nearby canal into a haven for wildlife.