August 23rd 2022
Showtime for De Beauvoir Gardeners - and it's bloomin' great to be back!
Everything in the garden is looking just a little bit rosier for De Beauvoir Gardeners, as members prepare for their first annual Flower and Produce show since 2019.
While the Covid pandemic led to the cancellation of the flagship event for two years running, it didn't stop club members organising other events – and maintaining existing membership levels.
It's something Kirsty Norman, membership secretary and co-organiser of this year's Blooms, Bakes and Barks show on Sunday 4th September, is very proud of.
"We worked really hard to keep things going through Covid with online events and we were determined not to stop," said Kirsty, a De Beauvoir resident of 30 years and gardening club member for 20.
"I know for many clubs, activities dropped off, but even though we couldn't do a lot of outdoor events, we did the odd one, like a tree walk in the street. I think that's probably the reason membership didn't drop off, because we found a way to keep going."
Kirsty is confident it will rise again from the current total of 73 members, particularly as she is launching a major recruitment drive at the show, with a focus on younger people.
She and fellow show organiser Cec Darker are also busy making final preparations for this year's event, which offers the usual array of stalls and activities, as well as the ever popular dog show.
"It is very exciting to be back! We really look forward to having everyone there and people love it," said Kirsty.
"It's great for our profile too, an opportunity to let everyone know what we do and hopefully encourage people to join. We are also very grateful for the support we have been given by the Benyon Estate and other businesses in the area."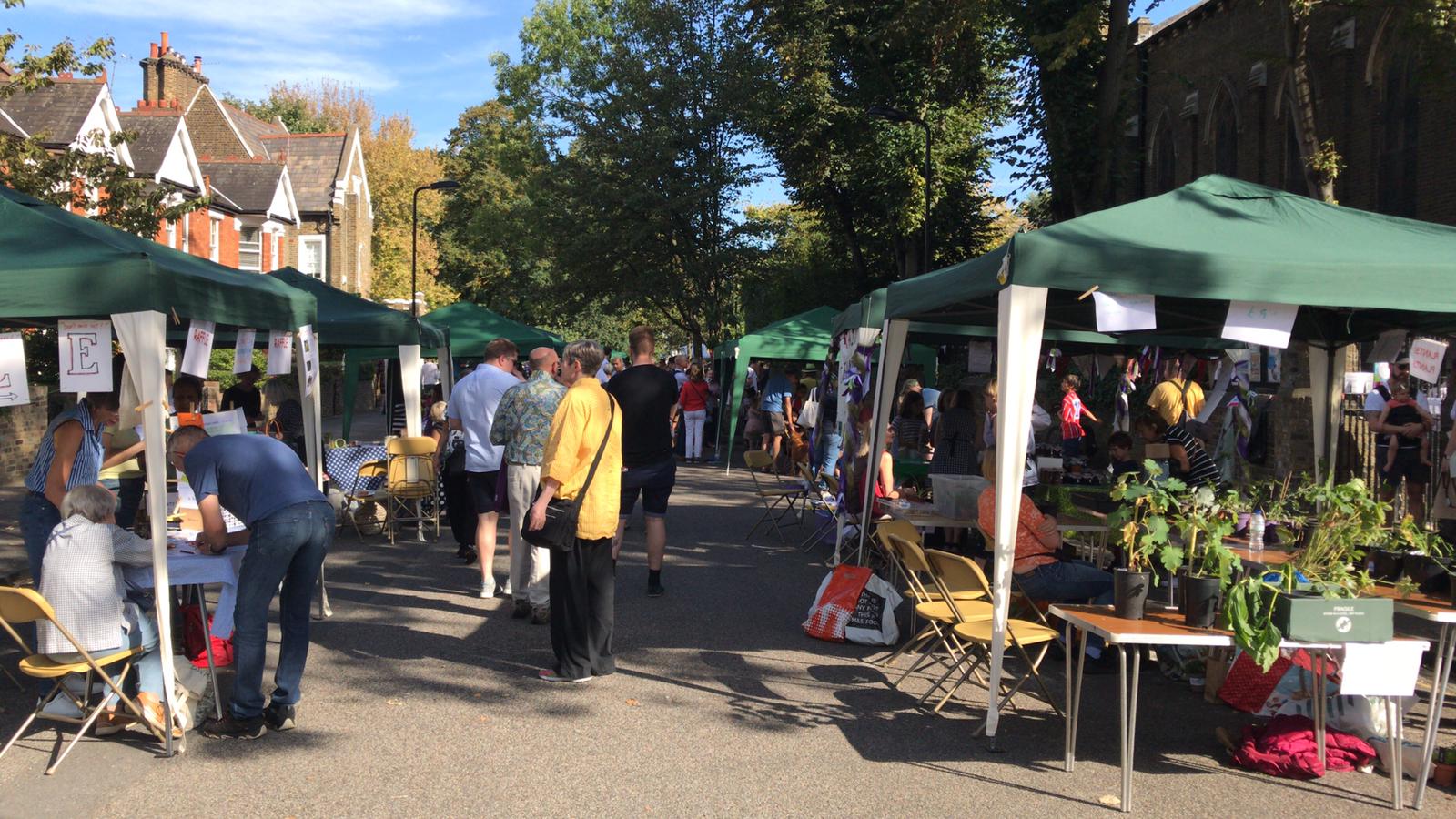 Admission is free to the event, which takes place between 1.30pm and 5pm in St Peter's Crypt, De Beauvoir Road, and outside St Peter's Church, on the corner of nearby Northchurch Terrace.
A busy day of attractions is on the cards with competitions for flowers, fruit and vegetables, baking, jams and craft. There are children's games, a WI stall and book stall, as well as a tombola and raffle, teas and cakes. No De Beauvoir Gardner's Club event would be complete either without a plant stall and a chance to get gardening advice from local experts with a passion for all things horticulture.
The Fun Dog Show is a particular highlight and canine entrants will automatically be entered into either the Prettiest Pooch or Handsomest Hound. In addition, there's a number of other categories including waggiest tail, best rescue story, best fancy dress and a golden oldie category for dogs over eight years old.
There is also a sustainability focus under the title of 'The Greener Planet'. Representatives will include the Tree Musketeers, volunteers who plant and care for trees in Hackney and The Good Bee Company, passionate about pollinators and all things beekeeping. Hackney Waste will also be on hand to talk about the importance of recycling.
With the Covid pandemic over it has already been a busy year for club members. They joined in the fun at this year's Party in the Park, another event back live for the first time since 2019, making flower crowns for children, which Kirsty says had them 'rushed off their feet!'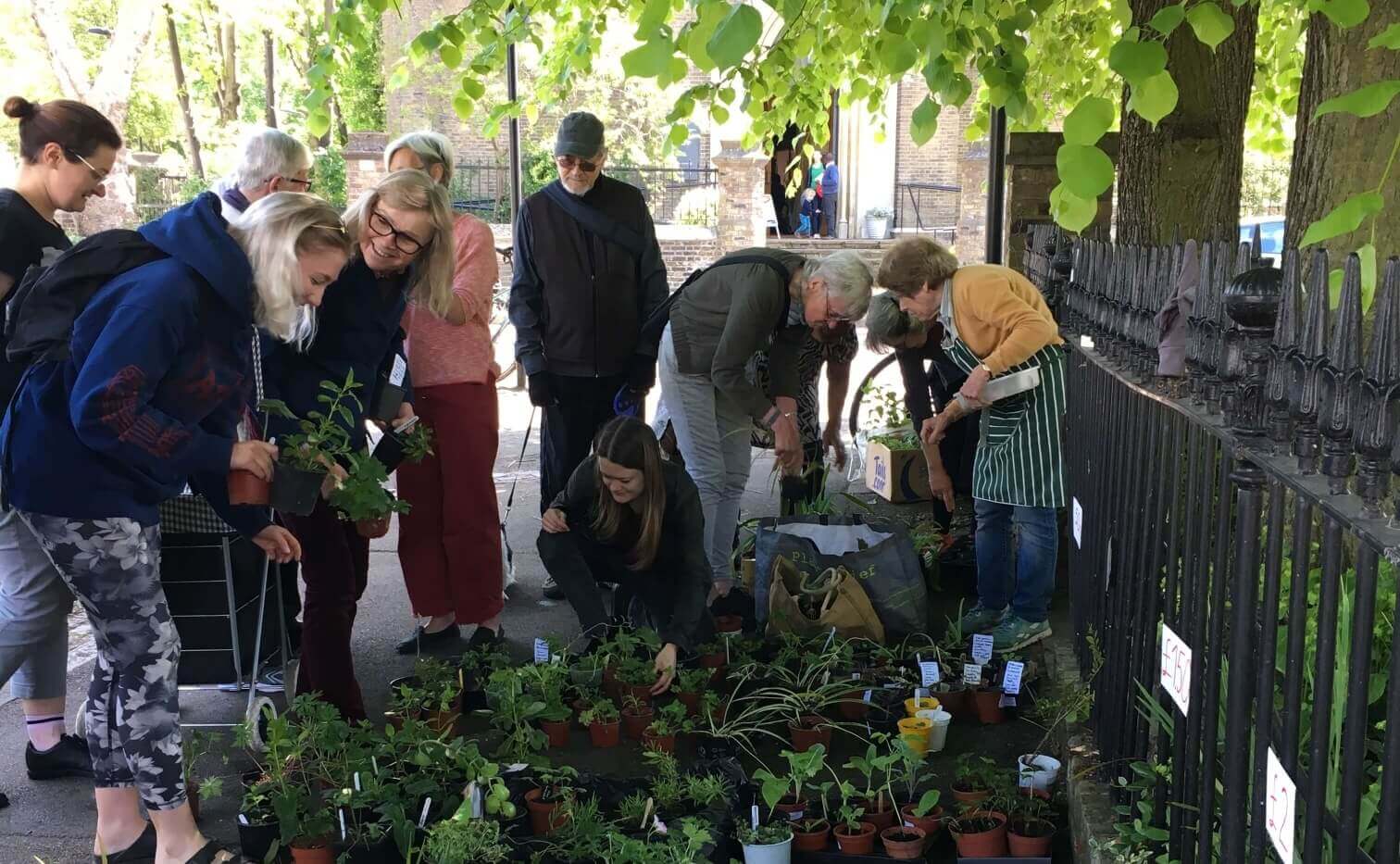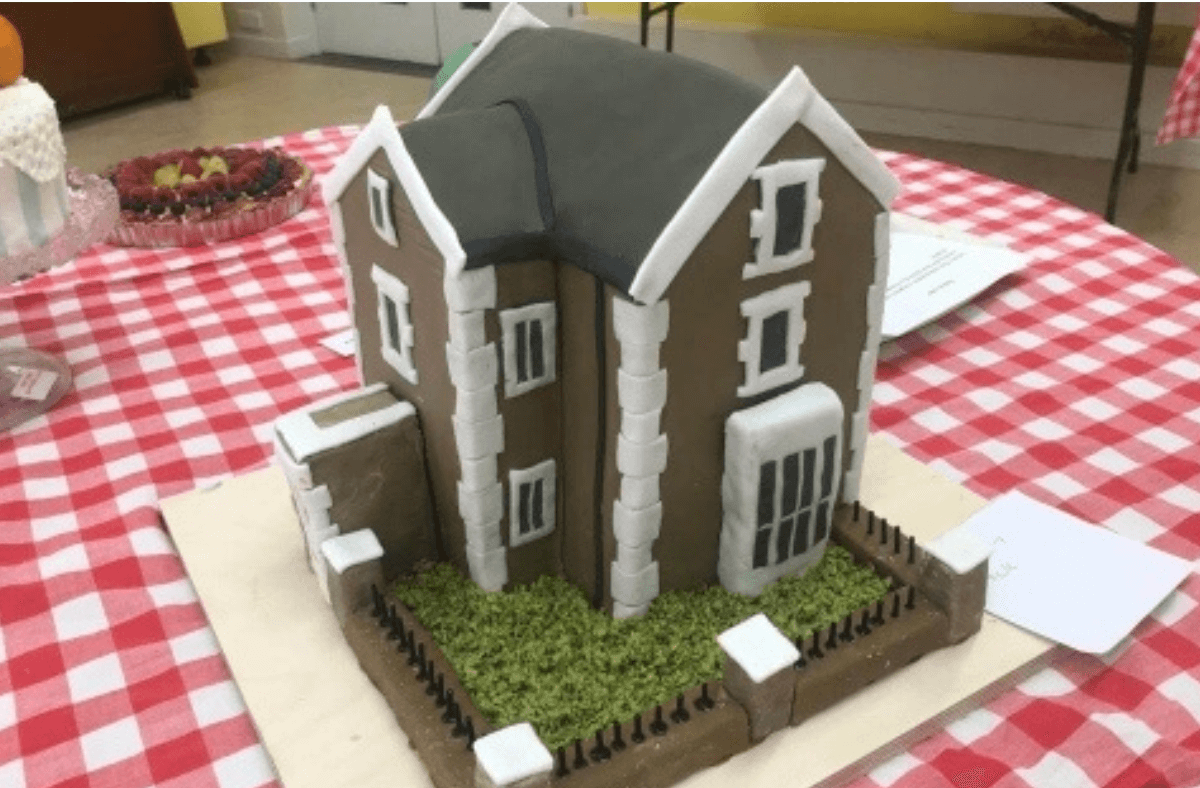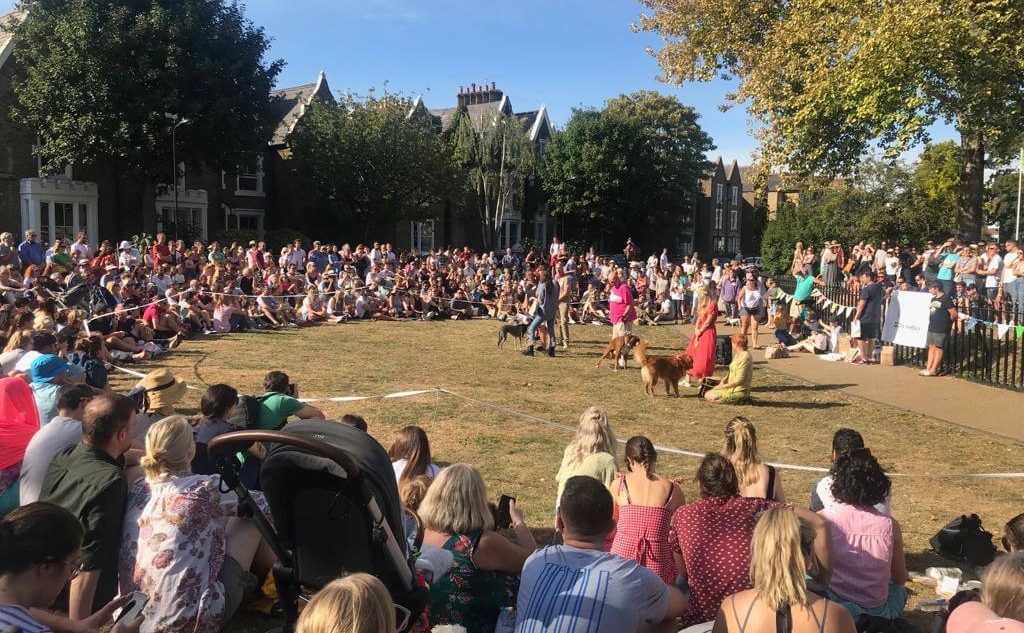 They have also enjoyed a packed programme of horticultural events since January, both at the regular monthly meetings at St Peter's Crypt, De Beauvoir Road and trips elsewhere.
From the delights of farming a Sicilian olive grove, as told by a qualified olive oil sommelier, to the inside track on the wildflower and butterfly haven at Tower Hamlets Cemetery by expert Terry Lyle, the club's calendar of talks has covered a wide range of fascinating horticultural subjects.
Club members have also been on a series of trips, including a dawn chorus bird walk at Abney Park Cemetery at Easter, which was one of the highlights for Kirsty.
"How many of us really know our city at that time of morning? Abney Park is this huge sanctuary and we were just surrounded by bird song. It was pretty magical," said Kirsty.
"The talk at Tower Hamlets was fascinating too, as Terry Lyle was just so inspirational and knowledgeable. He lives the subject and you can just tell it is everything to him.
Kirsty sees events such as these a vital element of the club's activities, as it gets people outside to discover the world around them.
We want people to really understand their environment and treasure it. It's what's great about being a member of De Beauvoir Gardeners,"
For more information about De Beauvoir Gardeners and this year's show, visit: www.debeauvoirgardeners.wordpress.com
Or follow De Beauvoir Gardeners on social media: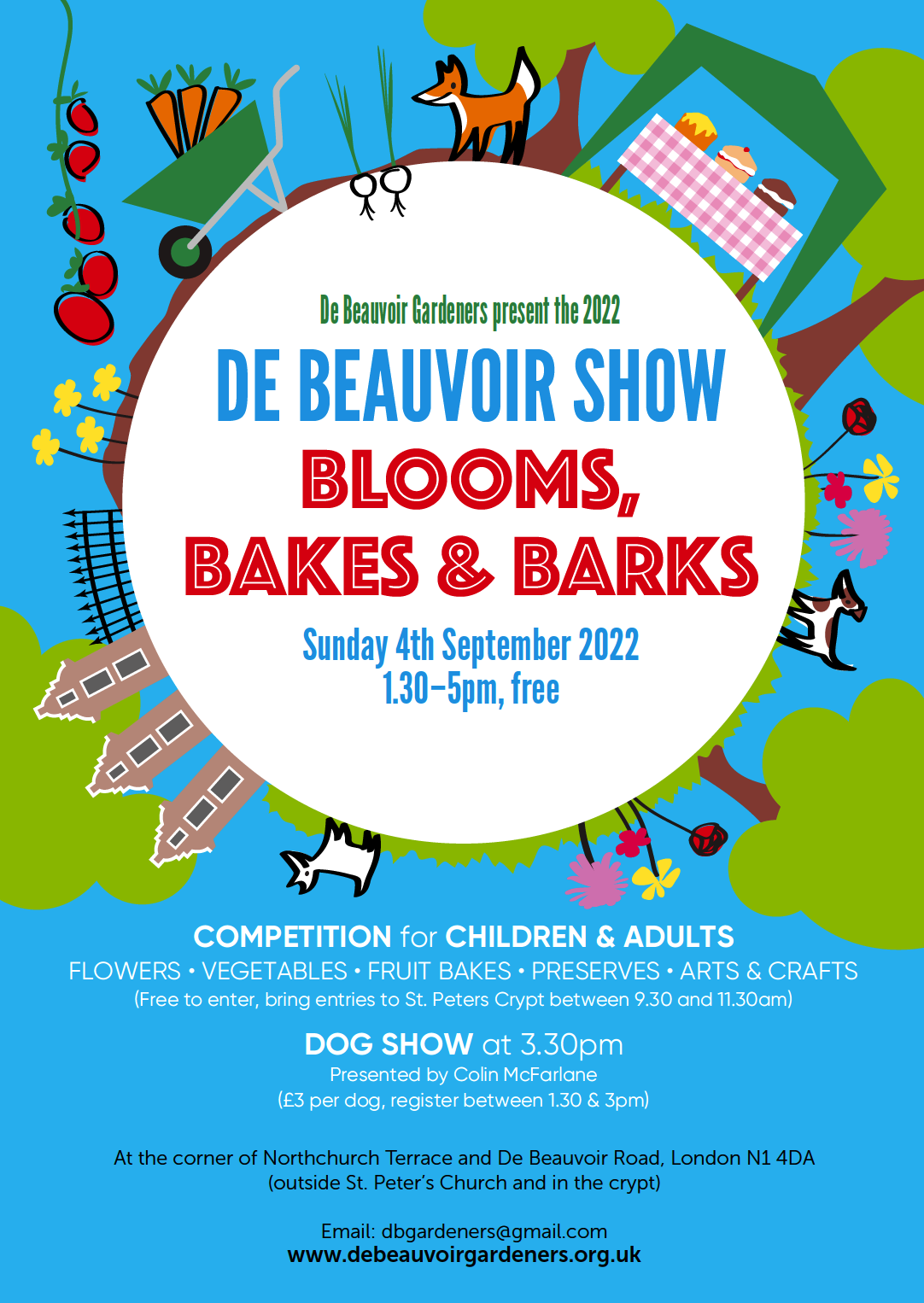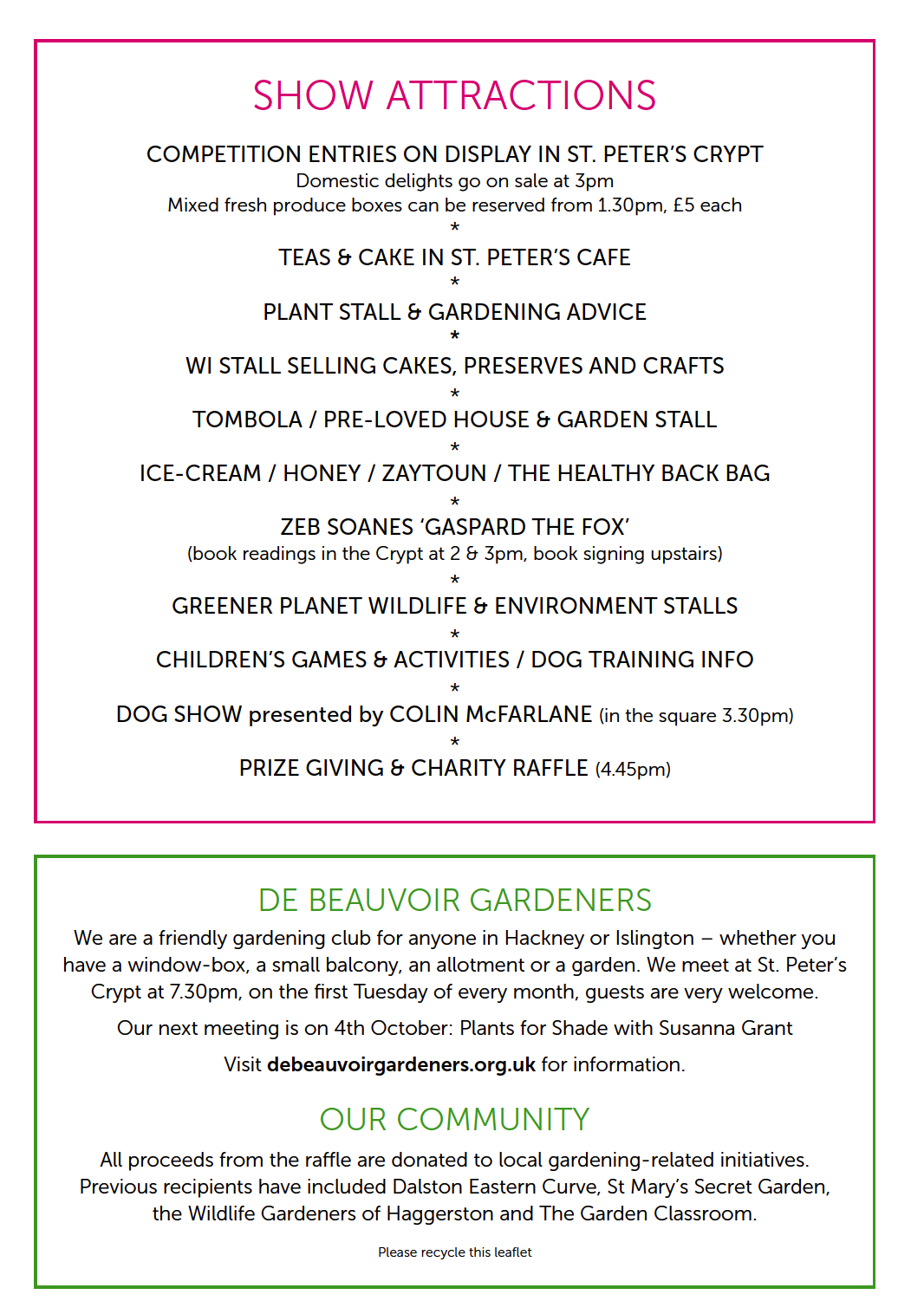 Photos copyright: De Beauvoir Gardeners / from the past Flowers and Produce Shows