November 11th 2022
The De Beauvoir Christmas Fair and Trail
The De Beauvoir Christmas Fair and Trail returns later this month, spreading festive cheer through the town.
Building on the success of last year's event, sellers will line the streets and fill the Crypt at St Peter's on Saturday 26th November between 11am-3pm.
There will be something for everyone including boozy coffees and hot chocolates, local honey and marmalade, gluten free and vegan treats, churros and a sweet stall.
And that's just if you're feeling hungry!
Local crafters and creators will be selling pottery, candles, jewellery, macrame, sustainable clothing and much more.
As well as festive shopping, you can enjoy singing from local children outside the Church at 2pm and a letter trail with a sweetie prize.
Local artist Caroline Griffiths, who lives in De Beauvoir Town, will be selling her prints, mugs and cards featuring local architecture, as well as animals which she started painting and displaying during lockdown to entertain local children.
"De Beauvoir Town was the best place in the whole world to be during Covid, with a supportive network of people. We all nodded and said "hello" on our daily walks. What the fair did was give people a chance to come and really talk.
The De Beauvoir Fair, whether in the church or on the streets, is a real neighbourhood bonding experience. It is huge fun, come and chat with me or anyone on the stands, there is no obligation to buy."
"The De Beauvoir Fair, whether in the church or on the streets, is a real neighbourhood bonding experience
After selling on her driveway in previous years, Caroline's stall will be inside the Crypt this year.
"I paint the local area; houses, streetscapes and the canal. I will be selling some high-quality prints and mugs, which are always popular leading up to Christmas, and I can take commissions. My table will be rather full, but I'll also have lots of handmade cards on offer including some with gold leaf. They shimmer and are beautiful, not just for Christmas but for any special occasion."
Last year the event raised an impressive £1,000 for De Beauvoir Welcomes Refugees thanks to generous stallholders and customers.
For more information about the event, visit De Beauvoir Association's website here.
To see the amazing work of Caroline, follow her on social media here: @mydailydrawingproject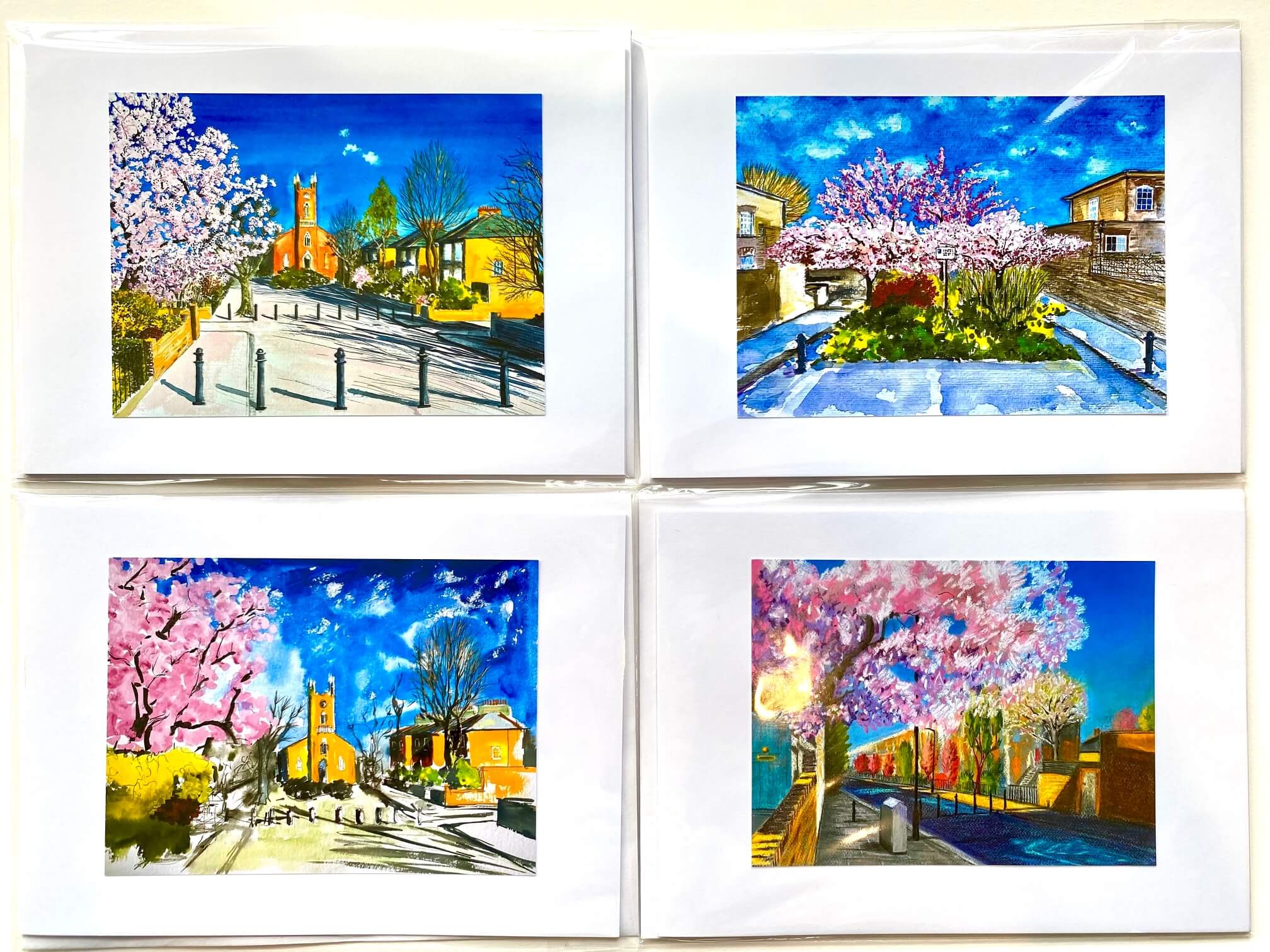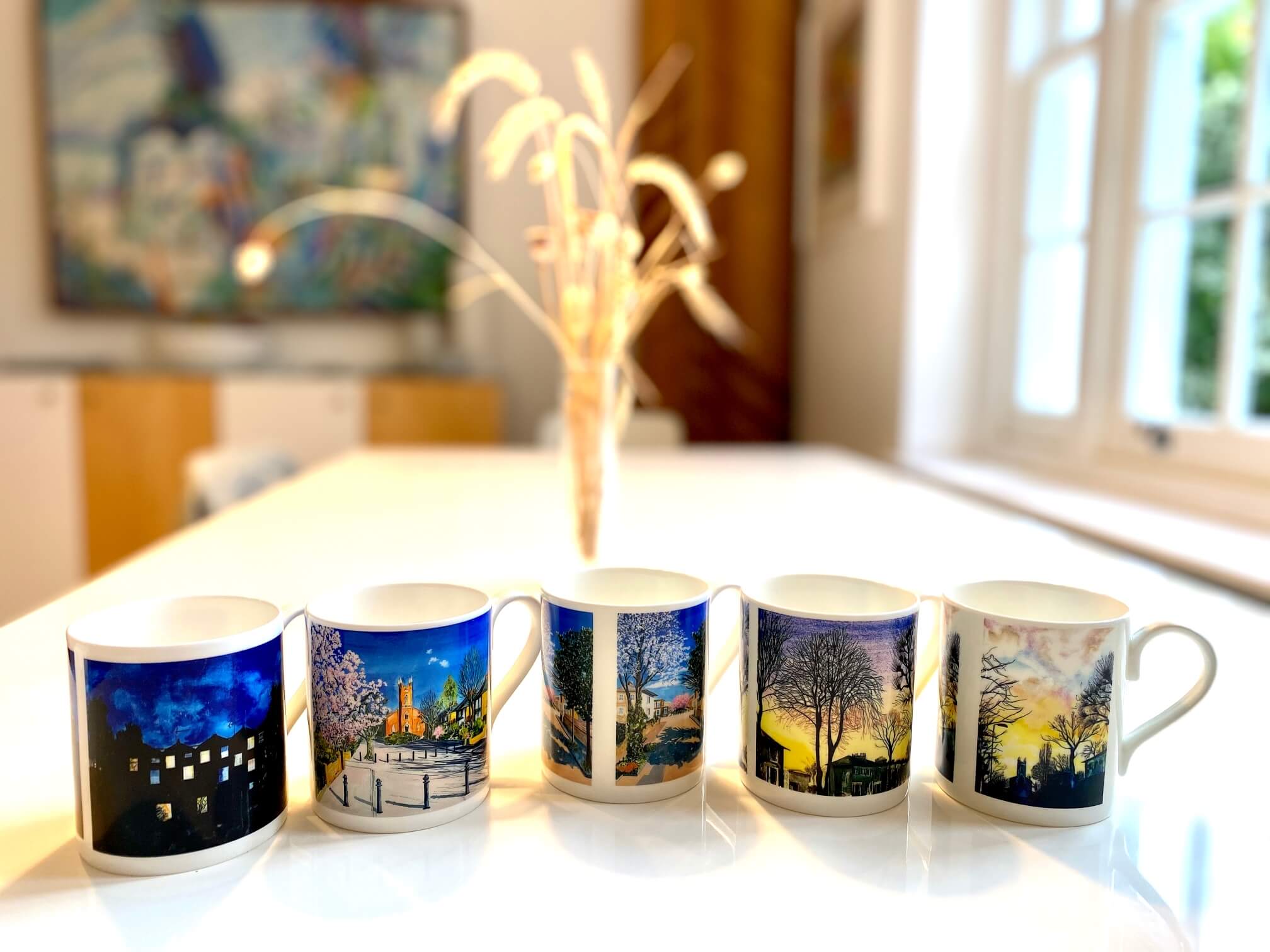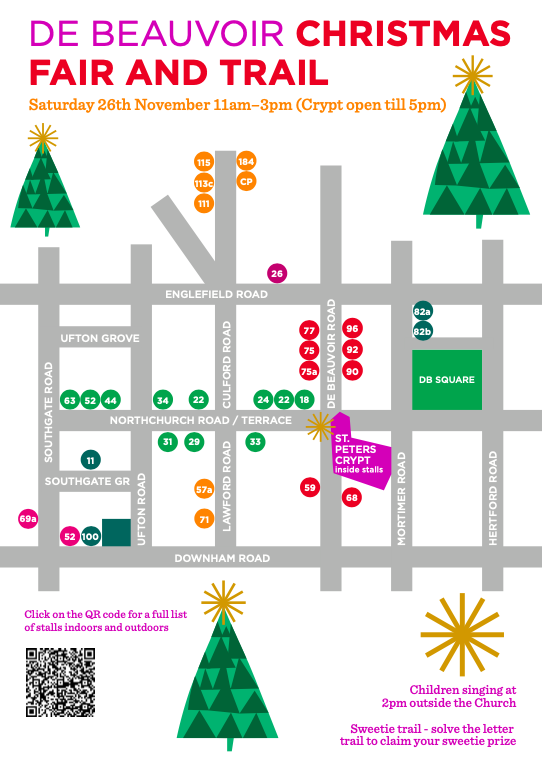 Photos copyright: All work by Caroline Griffiths / poster by the DBA